By Jerry Lips,
Over the holidays, my wife and I went to the movies and saw "Rumor Has It," a continuation of one of the fun movies of my youth, "The Graduate." As the Dustin Hoffman character was told, "There is only one word, just one word–'Plastic.'" Well, certainly today, you see plastic used in all types of ways, especially in the credit cards we carry. Today, as the world has changed, I believe the one word is–"Information." Our society as a whole has an insatiable need for information. Airport Journals is an information company, and we're passionate about our responsibility of reporting aviation news and recording aviation history.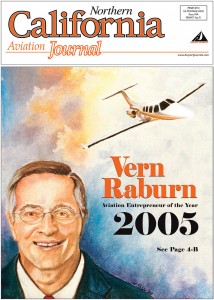 The responsibility we feel at Airport Journals is directly proportionate to the tremendous value of general aviation airports to the larger communities that they serve. It's particularly gratifying this month to announce the launch of our newest paper in our family of Airport Journals, serving important communities of Northern California.
Sifting through issues of the last six years for stories for our new readers that we might include in the "Wheels Up" section, I ran across my column from several years ago that I thought might be an appropriate New Years message.
---
What do the terms "high net worth" and "boring" have in common?
When I banned the word "boring" from use in our family, our teenagers ran to the thesaurus to find suitable synonyms. They may overuse the words dull and mundane, but at least I did my part in holding "lemming language" to a minimum.
Now as adults eating at their own tables, their ability to quote the words of Patrick Henry has diminished my ability to ban words from their vocabulary. That brings us to the term "high net worth" and my reason for wanting to ban this overused, ambiguous term.
A home in Old Cherry Hills, seven-stall garage, frequent trips to Europe, an increasingly discriminating palate, 11 years of owning our own multiengine aircraft with the ability to travel as a family when and where we chose–these were all benefits of our accelerating income. Then, like a bang, a reversal of fortune; it seemed to happen all at once. Within a two-week period, my dad died, we lost control of our business and experienced another serious family trauma. With our family lifestyle burn rate, and no income, I decided we needed to liquidate some income properties, gather our cash, and invest in another business.
When that business failed, we held a family meeting and the kids all agreed to move back into our old house that we had left seven years earlier. Things looked bleak; I had lost our money, my confidence and creativity. Although I looked normal on the outside, my trademark smile intact, emotionally, you could have scraped me off the floor with a spatula. I hunkered down, afraid to leave home, and after selling off our rental houses to put food on the table, Laurie said, "This is ridiculous. I'm going to get a job and you should do the same." Neither of us had ever had a job; we had always worked together in our own company and had not worked for anyone else.
I found it really painful that my wife was going to get a job because I had failed. The whole experience was traumatic. I can't explain here in this column exactly what I learned, but it changed my perspective, and I'm still learning from the experience. Although I wouldn't recommend such reversal of fortune for anyone else, I wouldn't trade the experience for anyone else's good fortunes. Somehow it was something I needed to experience and it has added a valuable dimension to my life.
To clarify my definition of persons of "high net worth," it may be someone that looks quite ordinary; they might live in an ordinary house and might do some simple things like taking a meal to a neighbor or mowing an elderly neighbor's lawn. Someone of "high net worth" might be the medical doctor that really cares about his or her patients. It might be an ordinary someone that makes extraordinary contributions of time to scouting or other youth programs. It might even be an individual of extraordinary wealth who makes a New Years resolution to become a "person of high net worth."
---
I also want to add my special note of congratulations to our columnist and dear friend, Cliff Robertson, who will be inducted into the National Aviation Hall of Fame this year. He adds class to our organization and the entire world of aviation.
Comments
comments