By Jerry Lips,
Lear Jet was days away from filing bankruptcy and being liquidated; if Charlie Gates had not been a visionary and put 26 million "1973" dollars into Bill Lear's company, Lear Jet may have become a footnote in the history of business aviation.
Harry Combs had introduced his friend, Charlie Gates, to Lear. Gates Learjet went on to develop a whole family of business aircraft that led the world of business aviation into the jet age.
The names Combs and Gates became inextricably linked in the world of business aviation. Building the first chain of FB0s, Combs Gates Aviation, showed the way for future business aviation services.
Before Harry died, he gifted the National Aviation Hall of Fame enough money to create the Combs Award. Each year, the NAHF presents a cash prize to a person that makes the most significant literary contribution to aviation. As the funds that Harry left for this award ran out last year, it's not only fitting, but very generous of Charlie Gates' children, Diane and John, to pick up where Harry left off, and fund the award.
The award, now to be known as the Combs Gates Award, will be presented at the opening of the annual NBAA convention. John Gates shares his father's passion for aviation and is not only a licensed pilot but also an avid glider pilot. Daughter Diane Wallach is a jet pilot and captains her Gates Learjet 55. Diane will be present at the National Aviation Hall of Fame induction on July 15, where Neil Armstrong will announce the Combs Gates Award and introduce a special tribute to Charlie Gates as the newest nominee to the National Aviation Hall of Fame.
---
Like a three-legged milk stool, Airport Journals' first leg is its community newspapers that serve the top general aviation airports across America. The second leg is the Business Aircraft and Jet Previews held in 11 of the country's top GA markets. The third leg of the stool is the master database that is being assembled on a grass-roots basis.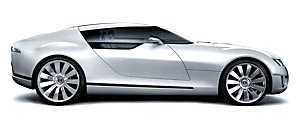 Airport Journals is very proud to welcome Saab as the official title sponsor of the Saab Business Aircraft and Jet Previews. Saab "Born from Jets" is truly an appropriate sponsor, offering test drives at the show for the full lineup of its aviation-inspired vehicles. As title sponsor of the jet previews, Saab is associated with the latest offerings from the business jet world.
At this year's Geneva Auto Show, the new Aero X concept car was unveiled and was the sensation of the show. Saab's innovative design features a cockpit canopy, inspired by its unique aviation heritage. Saab produced the two-seater sports coupe that breaks with conventional automotive design both outside and inside to make a unique statement in performance design. There are no doors or windscreen pillars.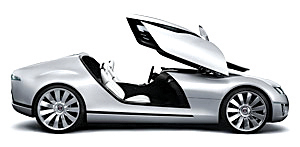 The Saab Aero X offers the Aero X pilot a full 180 degree vision, and facilitates entry and exit from its low-slung cabin. Power for the all-wheel drive Saab Aero X comes from a 400 bhp, twin-turbo, BioPower V7 engine fueled entirely by bioethanol, a sustainable energy source that is kinder to the environment by cutting fossil CO2 emissions. The "green power" of this advanced engine gives new meaning to the phrase "performance with responsibility."
Comments
comments