By Jerry Lips
Our 5th annual Living Legends of Aviation awards ceremony will be held at the Beverly Hilton Hotel on Jan. 24, 2008. Often referred to as the Academy Awards of Aviation, the event is hosted by the aviation legends themselves. Aviation Entrepreneur of the Year, Lifetime Aviation Entrepreneur and Freedom of Flight are among the awards. The legends make the nominations, so the event truly is about legends honoring their own.
After Steve Fossett was reported missing, I went to the "Legends" file and found a nomination signed by Steve, nominating Chuck Yeager for the Freedom of Flight award, and one sent to our offices just four days before Steve disappeared, from Carl Williams, nominating Steve Fossett. As I handled these forms and viewed the signatures, I felt a sense of respect that the legends have for each other. It gave me a better understanding of the work that Airport Journals does to record the histories of these remarkable aviation legends.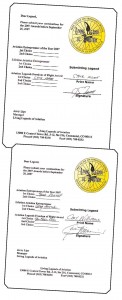 Steve was a good friend of Airport Journals. He sent notes and emails and called often with compliments about articles or suggestions on stories we might consider. Some don't understand the importance of the rank of "Eagle" in Boy Scouts, but my four Eagle sons had a special bond with their brother in scouting. Kermit Weeks often talks about aviation as the metaphor for flying past one's own limitations. Steve personified that great example. You'll find Steve's chapter in the "Living Legends Aviation" book, which will be released in November. We're also reprinting his chapter in this issue.
This year we've lost four of our legends: Wally Schirra, Robin Olds, Hal Fishman, and Steve Fossett. It wasn't easy to see these aviators take their flight west. We'll have a special tribute to them at the awards ceremony in January.
Comments
comments