By Jerry Lips
"From birth, flying is a kind of sensual feeling," he said. "When your dad or mom used to pick you up and throw you up in the air, you squealed with both fear and delight. There was a thrill to it. There was such a sense of delight in breaking free. Here, you're doing it, like a wish. It's like dreaming. You look over at a cloud, and you just point the plane over there and push the throttle forward, and there you go." Inducted into the Living Legends of Aviation in 2003, Sydney Pollack "flew west" May 26, 2008. (We'll be paying tribute to Sydney next month. You'll also find his biography at Airport Journals.com and in "Living Legends of Aviation.")
The last time I talked to Sydney, he suggested that we make mini documentaries on each of the Living Legends of Aviation. With his passing, I realize even more the importance of his suggestion to capture these important biographies on video and have them prominently searchable on the web.
---
The 6th annual Living Legends of Aviation awards will be held at the Beverly Hilton Hotel on Jan. 22, 2009. For more information on the most prestigious annual event of aviation and to see video highlights of last year's event, Google Living Legends of Aviation or visit AirportJournals.com/events/Living Legends.
---
Many pilots relate stories of when and what sparked their passion for flight. Porsche owners often define their affair with driving with similar emotion. It's a remarkable match when you overlay the profiles of pilots with Porsche drivers.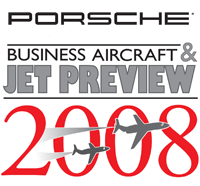 Recently John Donnelly, publisher of Fortune Magazine, called Airport Journals regarding Fortune's sponsorship of the Porsche Business Aircraft & Jet Previews. He said that the relationship with Porsche and aviation is being used as an example of a most successful marketing strategy. He added, "With measurable sales of cars and aircraft, it's a good fit for Fortune to help Porsche promote their aviation events." Whether you're flying a Cirrus or Cessna or riding in the back of a Lear or a Falcon Jet, you are very likely getting your business news from Fortune, and are or will be driving a Porsche.
Vern Raburn, Eclipse CEO and founder, says, "There's a real synergy, as the Porsche Business Aircraft and Jet Previews are the most successful one-day events that Eclipse attends." He reported 13 jet sales for one day at the Scottsdale show, setting a record. By invitation only, show attendees are provided continental breakfast, catered lunch, Porsche test drives and performance driving instruction, aircraft demo rides and other selected exhibitions.
This year's schedule for the Porsche Business Aircraft & Jet Previews includes some great new venues. Malloy Air East in Westhampton, New York, will host the jet show on Aug. 22, 2008. 121 In-Flight Catering will provide premium catering and display aircraft will include a variety of helicopters.
Visit [http://www.JetPreview.com] for more information or call 866-202-0096.
Comments
comments