By Jerry Lips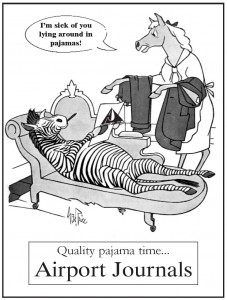 History of Airport Journals
In January 2000, Airport Journals began publishing its first airport community newspaper, the Centennial Aviation & Business Journal, serving the country's second busiest general aviation airport. In addition to circulating copies to everyone at the airport, flight departments put copies on board their jets, FBOs proudly put copies on board arriving and departing flights, charter aircraft were supplied with copies, and the papers grew quickly in popularity. The response was so remarkable that a publication was launched at Van Nuys, the world's busiest GA airport. The Van Nuys Airport Journal was an immediate success, and convinced us that we had uncovered an important new publishing niche, so we decided to secure other critical markets before potential competitors. During the next eight months, Airport Journals launched publications at Teterboro, the country's third busiest, and Scottsdale, the country's busiest single runway airport. Then over the next four years, six more titles were launched with combined
circulation serving over 500 airports, including the nation's "top one hundred GA airports."
Recognizing GA airports as communities and serving them with their own newspapers and then combining those into a national network have been original in concept and execution. Airport Journals enjoys this space of the GA market exclusively, and has built significant barriers to entry.
Community newspapers are grass roots by definition and Airport Journals benefits from the inherent affinity and loyalty of "the airport community newspaper." The newspaper format allows publishing more in-depth stories and interviews than a magazine format. The publications of Airport Journals have the distinction of being very unique, serving the ultimate audience. With just over 25,000 turbine class aircraft operating in the United States, and because the very nature of the business involves traveling from airport to airport, the passengers and crew on virtually every turbine aircraft are exposed to Airport Journals. The owners and passengers of these aircraft are our primary target audience and as a group are unparalleled in wealth and mobility. Our full color quality printing throughout, extraordinary content and commitment to improve with each new issue has created steady growth in readership and advertising.
Airport Journals produces annual consumer shows, called Business Aircraft and Jet Previews, at the country's busiest GA airports. The manufacturers show their newest and latest aircraft; fractional and charter companies, along with over 50 other exhibitors, also present their products and services. Airport Journals is building the most comprehensive data base ever compiled for general aviation: lists of aircraft owners, chief pilots, flight department directors, maintenance directors, fractional owners, charter users, all airport businesses and airport citizens.
Like a three-legged stool, (1) the newspaper, (2) the shows, and (3) the data base combine to make the most efficient, powerful and unequalled communication/marketing opportunity.
All Airport Journals personnel share the goal of making Airport Journals a truly world-class aviation information company. Our mission statement is: To successfully serve the general aviation community with creativity, passion and focus.
Comments
comments