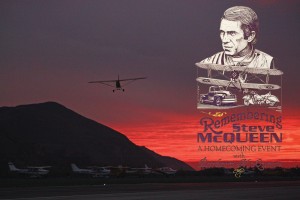 By Harlis Brend
It featured a book signing for "Steve McQueen:
The Last Mile" by co-authors Barbara McQueen and Marshall Terrill. The event continued on Sunday with the airport's traditional First Sunday Open House. The book was in high demand and sold out by mid-day Sunday (over 160 copies)—additional mail orders were also taken. Terrill said that it was the best book signing event they had ever hosted. According to museum director Janice Dickenson, feedback on the whole weekend was "phenomenal."
Terrill finished the evening by saying, "When I was writing the book and researching, I could never figure out why this major movie star would want to live in a hangar with his bikes and airplanes. Now that I've spent a weekend here, I completely get it. It's a very cool place."
Around the Santa Paula Airport, Barbara McQueen is affectionately known as "Barbie." This was her first trip back to Santa Paula since her husband's death in November 1980.
McQueen continued to reminisce about their life together at Santa Paula. "Living in the Santa Paula hangar was among the best times I ever had. We got up in the morning, pushed the button to open the hangar door, made coffee and enjoyed life. Steve flew every morning. He loved it—this was his church, his space."
When they were living in Santa Paula, most of their time was spent at the airport rather than their ranch. Both earned their pilot licenses at Santa Paula. He soloed in a Stearman and owned a 1931 Pitcairn mail plane. His favorite airplane was the Pitcairn; his favorite car was a Porsche, and his favorite motorcycle was the Indian. When his widow was asked why she left Santa Paula, she simply said, "Because Steve died."
McQueen's movie and TV career began in the early 1950s and concluded with his last movie "The Hunter" in 1980. He was one of the top box office draws in the 1960s and 1970s. According to published reports, he became the highest paid movie star in the world after appearing in the 1974 film "The Towering Inferno." In 1966, he was nominated for an Academy Award for Best Actor in a Leading Role in "The Sand Pebbles."
McQueen developed a cough in 1978, and he was having difficulty breathing during the year that followed. In December 1979, doctors made the diagnosis: mesothelioma, an incurable cancer of the lining of the lungs related to asbestos exposure. His doctors gave him a gloomy prognosis, but they treated him with radiotherapy and chemotherapy to try to shrink the cancer. The doctors finally ran out of options. Despite warnings that the tumor was inoperable and that his heart could not withstand the surgery, in late October 1980, McQueen flew to Cjudad Juarez, Mexico, to have a five-pound abdominal tumor removed. He died on Nov. 7, 1980, at age 50 due to cardiac arrest just one day after the surgery.
"Santa Paula was the beginning and end of Steve McQueen's aviation roots. Steve used to say, 'Santa Paula Airport is my kinda country club,'"said Mike Dewey, Santa Paula Museum board member.
McQueen's last interview was in 1979 with a high school student reporting for his school newspaper. McQueen was asked, "Why this kid, when all the big magazines want to interview you?"
His explanation was, "I love youth." Now that says a lot about the man.
Comments
comments