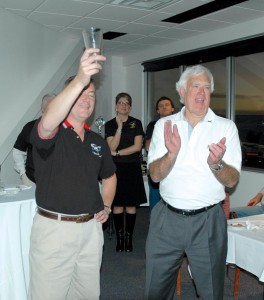 On November 6, Centennial Airport-based pilot Joseph Thibodeau said thank you to his Reno Air Race crew with a party at the Perfect Landing. Thibodeau, who took first place in the Unlimited Bronze race, flying his P-51D Mustang, "Crusader," shared the evening with other 2004 Reno trophy winners, including his son, J.P. Thibodeau, John Zayac and Evergreen resident John Penney.
Zayac took second place in the T-6 Bronze race flying his SNJ-5B, "Thumper." J.P. Thibodeau placed fifth in Biplane Bronze, in "Son of Galloping Goat," a Pitts S1-S. Penney was the Unlimited Gold champion, piloting "Rare Bear," a Grumman F8F2 Bearcat owned by Lyle Shelton.
Jim Carter, the owner of the Perfect Landing Restaurant, is building a showcase to display winners' trophies.
Comments
comments