Watching the destruction of Hurricane Katrina and the effect it was having on people's lives, Kevin Griffin wanted to help somehow.
"Our neighborhood organized a lunch, and we raised $3,000 in just a few hours via donations and by selling sandwiches to people simply driving by," he said.
Microsoft Corporation, where Griffin works building Flight Simulator, matched the donation.
"I was very impressed how people rallied and came together to support individuals thousands of miles away," Griffin said. Although he thought this effort on his neighborhood's part was "awesome," he wanted to contribute more directly to the relief effort. He searched online for a way to contribute his service and that of his Maule M7.
Through the Internet, he found out on September 6 about a disaster relief effort being conducted from Rusty Allen Airport (5R3) in Lago Vista, Texas, near Austin. He called Jim Awalt, who had listed his number as a contact, and was told that his flying services would be extremely valuable.
After receiving permission to leave work, the next morning before sunrise he was on his way to Lago Vista. The 15-hour trip from Renton, Wash., took him across Oregon, Nevada, southern Utah, Arizona, New Mexico and northwest Texas.
"The Lago Vista relief flights are organized by Bob and D'Anne Gloris from their hangar located on the airport, via the Southern Baptist Church," he said. "They had mobilized the entire community of Lago Vista and surrounding Lake Travis communities. People were driving up to the airport and dropping off supplies. Everything from baby food to peanut butter to crackers and bottled water arrived every few minutes, as word got out that the people on the receiving end in Louisiana and Mississippi were in dire need of supplies."
Griffin said he's never seen a community, or a state, come together to support people in need like Texas has.
"They say they do everything big in Texas, and this mercy effort is definitely an example of that," he said. "Volunteers would arrive at the hangar in Lago Vista before sunrise, coordinating donations and weighing everything. Every single item has to be weighed before being placed on an airplane."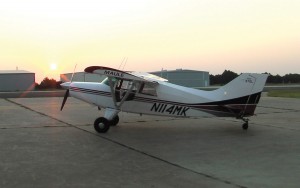 He said pilots flew an average of 10,000 to 20,000 pounds of supplies into towns like Slidell, La., and Hattiesburg, Miss., per day, with many more aircraft arriving on the weekend.
"The labor of lifting items can take its toll rather quickly," he said. "An airplane like mine can transport 400 pounds easily, but take an aircraft like a Pilatus PC-12, King Air, Beech 18 or other large aircraft that is participating in the effort; they can carry 1,300- to 1,600-pound loads. You can imagine how tired the volunteers are after loading in just a short time in the humidity and heat."
Griffin said that volunteers included area churches that trucked in supplies, as well as people on the receiving end in the stricken communities that performed deliveries to needy families.
"Several families donated their homes to pilots and other volunteers in town for the effort," he said. "Scott and Kitty Cameron, and Dave and Elizabeth Alger gave me a place to stay. The volunteer families would pick up the pilots at the airport, feed them and return them very early in the morning. Those two families went out of their way to make the pilots comfortable and also educate us a little about the local community. I can't say enough about their hospitality."
Griffin said that according to the tachometer in his plane, he put 50 hours of flying time on it. His first stop carrying supplies in the Maule was Hattiesburg, "425+ miles or so as the crow flies from Lago Vista," where a damaged hangar (housing a damaged King Air) served as a supply staging area for the coast.
"Slidell was another one of the 400+ mile destinations I was flying to," he said. "Slidell is located inside the temporary flight restriction area on the other side of Lake Pontchartrain from New Orleans, and was really hard hit. The main FBO hangar at Slidell was shredded. Several aircraft originally thought to be safe inside also got damaged."
Griffin said there's so much relief traffic in the Gulf Coast area that you need a special squawk code to enter the TFR.
"You receive the code by calling up 'Omaha' to enter the TFR," he said. "The Department of Defense also constructed a temporary tower at Slidell. There was a lot of military traffic there, ironically, buying jet fuel from the same FBO."
He said that both the volunteers and those on the receiving end at Hattiesburg and Slidell mentioned to him how thankful they were for the pilots who used their aircraft to transport supplies and people.
"It was great to hear from them that we're making a huge difference, one family at a time," Griffin said. "For example, Lago Vista was able to respond within hours with pilot cargo runs and send in Pedialite when there was an urgent need mentioned by disaster relief workers. That was directly responsible for saving babies from dehydration."
Griffin said that if he had more time, he would've liked to go along in the pickup truck as they delivered the supplies.
"Regardless, my soul has been changed forever," he said.
Comments
comments