By Lance Gurwell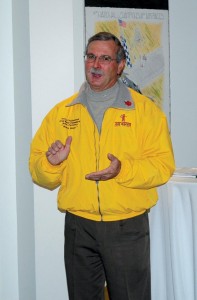 John Penney, piloting "Rare Bear," a highly modified Grumman F8F2 Bearcat, was practically flying in his competition's prop wash. They were screaming along at nearly 500 miles per hour, just 50 to 100 feet above the ground, when Penney saw Skip Holm, his chief rival, accidentally cut the fourth pylon on the second lap of the championship Unlimited Gold race.
That meant Holm, piloting "Dago Red," his super modified P-51, would be assessed a two-second penalty on each of the race's eight laps. To win, Penney had to stay within striking distance of "Dago Red," not commit any penalties himself, and complete the race without blowing up his motor. He soon cut off his nitrous oxide, dropped his rpms, and stayed a second or two behind Holm for the rest of the race.
That happened on Sunday, the final day of competition of the Reno National Championship Air Races and Air Show, held in mid-September.
"We were very fortunate this year; due to a matter of circumstances, we were the (Unlimited) Gold Race winner," Penney, from Evergreen, Colo., told partygoers at Centennial Airport's Perfect Landing Restaurant a few weeks after the race. He was speaking at P-51 Mustang pilot Joe Thibodeau's thank-you party for his crew. The attorney and his son, J.P. Thibodeau, were both trophy winners at this year's races as well.
Penney started his speech by saying it had been a "long wait" for "Rare Bear."
"This year was the toughest year of racing for our team," he said. "We had more things go wrong during the week, and I was just awestruck that things went as well as they did on Sunday."
That's why Penney decided not to push his luck in the final race, and overtake "Dago Red" for bragging rights about crossing the finish line first.
Penney arrived at Reno Stead Airport, where "Rare Bear" is permanently based, a few days before racing got underway. He was able to get some practice laps in-a chance to get his race reflexes honed a bit, and make sure "Rare Bear" was ready to race. Because races are sometimes held months apart, practice is considered invaluable.
"There's a learning curve every time we get out there-getting down on a racecourse, low to the ground, flying close to those pylons at the speeds we're flying," he said.
The first part of the first day of qualifying seemed to go well. But then a series of mechanical problems threatened to keep Penney and "Rare Bear" grounded, or at the least keep the team from being competitive.
"On Friday and Saturday, everything was great," Penney said. "We went out and practiced on the course on Sunday. I was just beginning to get a little familiar with it." On Monday, Penney and Holm were both on the course at the same time.
"It appeared to me that he was just loafing around," Penney said. "I flew past him a couple of times, and then I called for the clock. I got a speed of 490 mph, which is OK. Skip went down and did 490.8 mph, which surprised me, because the last time I saw, he was going really slowly. He pushed it up. Anyway, we were satisfied with that as a start because we had planned to go out to qualify on our second try and maybe try to get over 500 mph."
Because the Bearcat's motor has every power-maximizing component available, and turns at speeds it was never designed to work at, the crew does a complete check of the engine following every flight. The news following Monday's last flight wasn't good.
"We checked the oil every time, in between every flight," Penney said. "We checked the oil filters and the oil screens, and we found some metal in there. That gave us great concern."
Removing the metal bits, the crew sent it to an oil analysis lab in downtown Reno. When the report came back, it said there was aluminum in the screens.
"The only aluminum parts in the 3350 (engine) are the pistons," Penney said. "The guys got a borescope from downtown, and they started checking the tops of all the pistons. They couldn't find anything wrong. They looked at the cylinder walls; they were all looking good. Then, they pulled a cylinder from the front row and the rear row, so they could go in and look underneath at the piston skirts."
Again, everything checked out fine; nothing explained the mystery metal. A few other people examined the metal from the screens and deduced it was silver. Even Penney was convinced, but his crew chief wasn't satisfied with the answer.
Fortunately for the "Rare Bear" team, they remembered Mel Gregoire, an 86-year-old friend whom Penney said has been building Curtiss Wright engines since "before all our parents were born."
"He has more experience doing this than anyone," he said. They flew Gregoire, who was in southern California, to Reno on Wednesday morning.
"He took one look at our pan and said, 'Well, that's your blower drive going away,'" Penney recalled. "Another blower was located in southern California, and was shipped up overnight."
The crew worked overtime installing it, and about midnight on Thursday, they fired the engine up. It seemed to be running okay.
"We went out on Friday morning, did a test flight in the midst of all the racing, and everything was looking good," Penney said. "Went out on the racecourse, and we were second behind Skip Holm. We came back, and we found a cylinder that was losing compression. You can't run at the horsepower settings we were running at with a bad cylinder; you can get away with it on a Cessna 172, but not on a race plane."
All-nighter gives Rare Bear another chance to race
It was another all-nighter for Penney and the crew. The weak cylinder was pulled and replaced with another. "We went out for a test hop on Saturday and everything looked good," Penney said. "We went out and raced on Saturday afternoon. As soon as we came down the chute, and I brought the power up, I could tell the ignition on one of the cylinders was going down."
Penney said he didn't want to pull up, so he brought the power down a bit and found a setting where the engine would run smoothly. He spoke with "Rare Bear" owner Lyle Shelton on the radio, and Shelton, a former racer himself, told Penney to use his own judgment about staying out on the course.
"I stayed on the course; we fell back to third place," Penney said. "'September Fury' passed us up. So now we were going to be in third place position, starting on Sunday."
Another all-nighter Saturday fixed the ignition problem. Early Sunday morning, Penney took "Rare Bear" up for a test flight to set up the nitrous oxide injection system. Nitrous oxide, often used in drag racers, dramatically increases power by adding extra oxygen to the fuel mixture.
"We came down and landed," Penney said. "We just made a guess on changing some settings. The guys were pumping the nitrous into the airplane, getting it serviced and ready to go."
By now, bad weather was starting to set in.
"The promoters came around and said, 'Can you take off in 30 minutes?'" Penney recalled. "We're sitting in the hangar; we said, 'Yeah, we can do that.' So, they shut down the servicing; the airplane isn't even polished or waxed or anything. We went and cranked up, taxied out, took off and joined up. The join-up was an exercise in itself, because the weather's coming over the hill. The snow and rain is falling on the west side of the course, just like it comes over the Rockies here."
Penney said he commented to no one in particular, "We're going to race underneath that stuff?"
Pylon racing can be dangerous in good weather, what with flying nearly 500 mph, and then drawing five times the pull of gravity around the pylons as the planes bleed off speed. But doing so underneath the arriving cloud cover could prove deadly.
"The danger about that is, if you have an engine blow, you can't pull up," Penney said. "If you have an engine blow, you want to pull up and get 4,000 to 5,000 feet of altitude. We had a situation where if we had lost an engine, we'd be stuck down at low altitude. I didn't like that, but we're racers; we went anyway."
Even so, Penney was feeling confident. Before taxiing out to take off for the race, he throttled up the engine for one last check. Penney took off, and the race was on.
Coming down the "chute" at the start of the race, Penney had just brought the throttle up to 3,200 rpm, when he realized that in that airplane, he had never seen that amount of horsepower.
"We saw 4,350 horsepower, which is pretty awesome for this airplane," he said. "I was able to hang right there with Skip Holm; he was cranking it on pretty good," Penney recalled. "I passed 'September Fury' coming out of the chute. He fell back and I was able to get on Skip's wing on that lap."
Now in second place, hanging a dozen or so feet from Holm's wingtip, Penney said things were looking good.
"The Bear was handling well and I was feeling good," he said. "We came down approaching pylon four, which is the first pylon up on the back side of the course, and all of a sudden, Skip just turns left."
"Dago Red" cuts pylon
Penney said he started to follow Holm, since they were flying formation.
"But that's not where pylon four is," he said. "I went back around pylon four. After I got my wits about me, I called up on the radio and told our crew chief, 'Dago just cut a pylon big time. As long as I don't cut a pylon and the engine hangs together, we just won the gold race.' This was on lap two."
The crew chief got so excited, Penney recalled, that he fell off his truck. But he never told Shelton that Holm cut the pylon.
"On the next lap, I decided I better take it easy on this engine, so I came out of the nitrous oxide, pulled the rpms back a little bit, and just decided to see what it would take to hang just one or two seconds behind Skip, which I did for the rest of the race," he said.
Shelton, Penney said, was beside himself, not knowing that Holm had cut a pylon.
"He was yelling at me, 'Get down! Get lower! Push it up!'," Penney recalled, grinning. "I finally came on and said, 'We're okay; just hang on. I'll talk to you on the ground.'"
The race ended, everyone landed, and "Dago Red" taxied up in front of the grandstands.
"They're just celebrating like crazy-like they had been for the last five years," Penney said.
He told his crew chief he had no doubt in his "aerospace mind" that Holm had cut that pylon. Taxiing in, he climbed out of "Rare Bear," and then his group "started celebrating like crazy."
"The Dago crew looks over at us like, 'What are they so happy about?'" he recalled.
Soon enough, it was broadcast over the field public address system that judges were discussing the incident at pylon four.
"In about three or four minutes, they found out it was official," Penney said. "It was a pylon cut; we had won. They brought the trophy over to our crew. It was a very, very satisfying end to a tough, tough week."
Penney said he would have liked a more "exciting finish."
"We always want to cross the finish line first," he said. "There's always a question: 'Well, you eased up; you weren't that competitive.' But when I was down on the course, I had to make an assessment-a judgment call. We'd had all these problems all during the week, and we had this blower drive that we just changed out that'd been sitting in a hangar for a couple years. I just decided to shadow Skip by a second and a half or two seconds, and it turned out okay for us. We got some additional sponsorship out of the whole deal, and we got the good prize money."
That money-about $160,000-will come in especially handy because the team is building a new engine for "Rare Bear."
"So, for those of you who have the inclination to come out to Reno and see the races, come out this next year," Penney told those gathered. "Because we're going to have two engines; that means I'll have the freedom of being a lot more aggressive on the racecourse with the engine."
John Penney
John Penney's military service earned him the Distinguished Flying Cross and Air Medal with nine Oak Leaf Clusters. After graduating from USAF undergraduate pilot training, Vance AFB, Okla., in 1971, Penney was an A-7D student and operational pilot. He graduated "TOP GUN" from the first class of USAF pilot training graduates to enter A-7D upgrade training. From 1972 to 1973, as a combat pilot in Thailand, his operations included search and rescue missions, locating survivors and providing armed escort for helicopters flying deep into North Vietnam to rescue downed American flyers. He flew interdiction and close-air-support missions throughout Southeast Asia, completing 139 combat missions, 398 combat hours.
From 1973 to 1976, he was an A-7D flight instructor. He also wrote academic manuals for fighter combat maneuvers and weapons delivery, and as a functional test pilot, performed in-flight checks on aircraft that underwent major maintenance. He served as a flight examiner, instructor and standardization officer (O-2A) between 1976 and 1979.
Between 1980 and 1993, he flew the F-4C(R) with the 192nd Tactical Reconnaissance Squadron, Nevada Air National Guard. During that same period, from 1981 and 1985, he was an experimental test pilot and flight test engineer at Lear Fan Ltd., before progressing to director of flight test operations.
Penney began flying for United Airlines in 1985, where his role was standards (check) captain on Boeing B-737-300, B-757 and B-767 aircraft, on domestic and international routes.
In 1984, he became director of flight operations, as well as chief test pilot, at American Aviation Inc., where he continues to perform experimental and functional flight testing on restored, reconfigured and modified surplus military jet aircraft, as well as to design flight test and training programs and author flight manuals for imported Russian jet fighter aircraft. He also administers MiG flight test training for USAF and USN test pilot schools.
Penney began piloting "Rare Bear" in 1985. He took first place, Unlimited Gold Championship, in the Phoenix 500 Air Races in 1994 and 1995, and fist place, Unlimited Super Gold Championship, at Reno in 1994. In 1996, flying 491.266 mph, he set a speed record at Reno for all time Unlimited qualification. Skip Holm, flying Terry Bland's modified P-51 "Dago Red," at 497.787 mph, surpassed that speed record during the 2002 Reno Air Races.
In 1994 and 1996, Penney was awarded the Pulitzer Trophy for Air Racing in the Unlimited Class, 1994 and 1996, Smithsonian National Air and Space Museum and National Aeronautic Association.
Penney has two daughters with his wife, Stephanie. He passed on his love of flying to one of those daughters, Heather Penney Garcia. An F-16 pilot in the Air National Guard in Washington, D.C., she was among the first pilots to be scrambled after the U.S. was attacked on Sept. 11, 2001. For recreation, she flies her own Taylorcraft airplane.
Lyle Shelton and "Rare Bear"
If Lyle Shelton, of Northridge, Calif., hadn't missed a 1964 flight to Hawaii to start a 30-day leave from his Navy duties, there wouldn't have been a "Rare Bear" Racing Team.
When he missed that flight, he found himself in a hot canteen, wondering what to do, until he read about an air race that same weekend in Reno. Curious about the event, he headed out to the primitive, dust-choked Sky Ranch Airport, where he offered his services as a crew member to a young racer named Clay Lacy, who was entering his P-51 Mustang in the event.
Shelton found himself hooked on the sport, and decided he "wanted to fly the fastest race planes in the world"-the mighty Unlimited Class. Of course, he had to finish his Navy hitch first, but to help educate himself, he requested duty on the West Coast, and was assigned as catapult and arresting officer aboard the "USS Kearsarge" out of Long Beach, Calif.
In his spare time, he searched for planes to fly, and visited airports where warbirds were hangared. Then, he'd find out who the owner was, and offer to race their planes. His efforts paid off, and he flew a stock P-51 called the "Tonopah Miss" in his first race (the 1965 Los Angeles Air Races). Shelton finished sixth. He placed second in the 1966 Reno Consolation race in a borrowed Sea Fury. He was unable to borrow a plane for the next two years, so he decided to find a plane of his own.
The search ended in 1969 in Valparaiso, Ind., where he found the wreckage of a circa 1946 WWII Grumman F8F2 Bearcat that had crashed in 1962. Only parts of the aircraft remained; parts hunters had scavenged most of the plane. Undaunted, he loaded the remains-a fuselage, wing center section, landing gear and right wing panel-on a truck and hauled it back to California for restoration.
A rebuilt plane sporting the name "Able Cat" emerged before the end of the year. In its first Reno Air Race, Shelton piloted it to a respectable fifth place. He and his team continued working on the plane, and renamed it "Phoenix I" in 1971. It won its first race at Cape May, N.J., taking the event with a speed of over 360 mph. The "Phoenix I" went to Reno that September, and finished second, just .32 seconds behind the winner.
In 1972, the plane challenged and broke the longstanding 3,000 meters time-to-climb record in 91.9 seconds. The aircraft was grounded from 1976 through 1979, but Shelton didn't turn his back on air racing. He managed and directed the Mojave Air Races. In 1980, he brought his plane out to Reno again, changed the name to "Rare Bear," and continued to work on it with limited funds.
It wasn't until 1986 that a major sponsor was attracted. Wichita Air Services provided support for a thorough overhaul of the warbird, hired a crew chief, and rented a hangar for the crew. Every restorable piece was returned to original condition; those that couldn't be restored were individually manufactured and refitted.
Completed in 1987, the rebuilding project paid off and "Rare Bear" flew the third-fastest qualifying time-452.90 mph-at Reno that September.
The winning tradition had begun, and Shelton set his sites on the elusive 3Km world speed record for propeller-driven aircraft, which was then 499.018 mph. On Aug. 21, 1989, "Rare Bear" was ready to contest the record. At a location near Las Vegas, N.M., the plane sprinted the four legs of the course at an average speed of 528.33 mph, beating the old record by nearly 30 mph.
To learn more about both men, and the complete history of "Rare Bear," visit [http://www.rarebear.com/].
Comments
comments