By Chuck Weirauch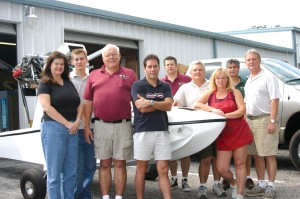 As far as Terry Nickens was concerned, he had returned to the days of the aviation barnstormers who flew at county fairs and other events around the United States in the early 1920s. However, he was in Australia flying a modern SeaRey experimental aircraft, in December of last year. At the invitation of a SeaRey dealer in Australia, he and his wife Ann had flown to that country and rented one of the two-place, single-engine pusher amphibians to participate in a seaplane splash-in at Lake Bota in western Victoria Province.
The couple also flew with a group of five to 10 SeaReys on a 10-day, 2,500-mile excursion around the coastline of the continent Down Under. Since most of the Outback area they flew over is largely undeveloped, whenever the group would land near a small town or village, the residents would greet them with considerable interest and enthusiasm.
"The Aussies out there were just not used to seeing so many seaplanes together-or seaplanes for that matter," Nickens said. "We were treated like barnstormers, or even better. We didn't have many problems flying over these mostly inaccessible areas, but if we did need help, the residents were always ready to lend a hand. It was truly a wonderful experience."
When high crosswinds over the grass runway that doubled as a golf course fairway on Fraser Island led to damage to the landing gear on one of the SeaReys in the group, the island manager helped arrange repairs at the welding shop, Nickens said. Along with the high wind, the group's other major landing concern had been groups of kangaroos that could jump out onto the runway in front of an aircraft, he added.
Back home in Howey-in-the-Hills, Fla., Nickens extolled the virtues of the SeaRey's design and reliability. The lightweight versatility of the aircraft is what helped make his Australian trip a success, he said.
Nickens built his own SeaRey, which he has flown for more than 1,400 hours throughout the Northeast region of the country. He is also building a hangar for the SeaRey on his lakefront property on Little Lake Harris near Leesburg.
"The short landing and takeoff characteristics of the SeaRey, along with it being a docile, forgiving aircraft, allowed us to get away from the typical tourist areas during our Australia adventure," Nickens summed up. "It's just a wonderful, fun aircraft."
Progressive Aerodyne
Progressive Aerodyne, Inc. manufactures the certified-experimental type SeaRey. The family-owned and operated company is headquartered in a large warehouse facility on the west side of Orlando. Kerry Richter, designer of the SeaRey, is president of the small business. His father, Wayne, and brother, Mark, are the firm's two other principal partners. Michelle and Bryce Richter are also two of the company's 10 employees.
Kerry, Wayne and Mark Richter have been involved with experimental aircraft kit design and manufacture since 1977. Progressive Aerodyne began manufacturing SeaRey kits in 1992. So far, the firm has sold approximately 370 aircraft and sells between 45 and 50 kits per year.
Most of the SeaRey sales are due to its reputation for being a kit plane that's easy to assemble, as well as an aircraft that's reliable and fun, Richter said. Many of the SeaRey customers are commercial airline pilots who are looking for a way to fly for fun rather than work, he pointed out.
Gary Johnson is a good example of that. Johnson, who has owned his SeaRey for more than two years, has been an airline pilot for 30 years. He has logged more than more than 15,000 hours in commercial aircraft and 400 hours in his SeaRey. Johnson keeps his aircraft at his lakefront home in Clermont, Fla., and has flown all around the state. His longest excursion with it was a four-day trip up the Mississippi River from Louisiana to Illinois. Rather than build one, Johnson bought his second-hand so he could make flying his hobby as well as his career.
"The SeaRey is really a fun, safe aircraft," Johnson said.
Even though the SeaRey has received high praise from nearly all its owners, Progressive Aerodyne has been at work to further improve the aircraft from its original design. The biggest change has been to the hull, which now features a wider "V" shape to improve performance in the water. Another change was to eliminate the water rudder at the lower end of the hull, since it has been proven to be unnecessary. Yet another change was the recent addition of the turbocharged Rotax engine option.
"We're also working on a larger, four-place amphibian," Richter said. "This is a niche area where there is not much competition."
The bolt-together kit features a molded one-piece laminated fiberglass hull and mainframe. The rest of the basic kit is comprised of tubular aircraft-grade aluminum components and laminate for the wings.
A wide array of avionics can be mounted in the instrument panel, which is a part of the molded and reinforced fiberglass hull. The forward deck and rear turtledeck are also fiberglass and are riveted to the hull.
In addition to fun and safe, the SeaRey has proven to be reliable as well. Although there have been accidents, none have been attributed to the aircraft's design, construction or power plant failure, Richter said.
"Rotax engines have been proven to be more reliable by the military than either Continental or Lycoming power plants," Richter pointed out. "That's why they're used in Predator unmanned aerial vehicles. We also use Rotax engines because they're considerably lighter than the others on the market."
Although the basic engine for the 22-foot-long SeaRey is the 80-hp Rotax 912, there are two other engine options, including the 115-49 turbocharged Rotax 914. Richter said most customers choose the 95-hp 912S; with that engine, the 830-pound aircraft cruises at 93 mph, with a top speed of 113 mph.
Stall speed for the 30-foot wingspan SeaRey is 36 mph. The aircraft needs just 175 feet for takeoff solo on land or water, with 375 feet needed with a passenger. Approximately the same distances are required for a water takeoff at a speed of 50 mph.
The SeaRey airframe kit is $23,500, while the Rotax 912S engine is about $13,000 and a basic instrument package is $1,400. Many options are available, such as a hydraulic brakes and wheels kit for $1,250. Some of the many other options for the aircraft include hydraulically-powered landing gear and electric flaps.
According to Kerry Richter, the SeaRey can easily be put together in a closed facility, since it's mainly a bolt-together kit; it's designed so that it can be built in a two-car garage. It's estimated that it takes approximately 300 to 400 hours to put a SeaRey together. If customers need help with the assembly, the company can provide it at their own manufacturing facility.
SeaRey featured at Orlando Science Center exhibit
The Orlando Science Center decided to purchase a SeaRey amphibian kit for its "Touch the Sky" aviation exhibit, when president and CEO Dr. Brian Tonner decided that building a kit plane in the facility would add to the educational experience of the display.
"We looked at many different types of aircraft for the exhibit," Tonner said. "We had a list of criteria for making the decision. It needed to be an aircraft that could be constructed safely indoors in a public place. Another major requirement was that it could be completed in a specified number of hours over a certain period of months."
Tonner said they also wanted to have an aircraft that had some connection to Florida, which would "tell the story of the role that Florida plays in science and technology."
When representatives from the center went to the Experimental Aviation Association's Orlando chapter for recommendations, Jim Buchan suggested they look at Progressive Aerodyne. Having built and flown his own SeaRey, as well as other aircraft, Buchan knew that the little experimental aircraft would meet the center's requirements for assembly in an enclosed environment.
According to Buchan, the SeaRey met all of the center's requirements because it is a very buildable aircraft, with build time measured in hundreds, not thousands of hours. Since it's mainly a bolt-together project, it doesn't require considerable aviation knowledge, he said.
Buchan heads up the project's volunteer build team made up of about 20 EAA Chapter 74 members and retired Lockheed Martin engineers. As of the end of October, the team had put in about 600 hours, with just the wings left to be finished.
"The SeaRey assembly instructions are exceptionally well documented," Buchan said. "If you can read and follow directions, anyone can put the airplane together. It requires no special, extra effort whatsoever."
Tonner, an EAA member of 20 years who has built an experimental aircraft and flies it whenever he can, said that Orlando EAA Chapter 74 was very enthusiastic about the SeaRey project and that it had truly been a team effort. He feels that the project most likely wouldn't have been successful without the help of the local EAA members. As far as anyone knows, this is the first time that a flight-ready aircraft has actually been built inside a facility like the Orlando Science Center.
"I thought one of the things that would be interesting for the center to do would be to not just display aircraft," Tonner said. "The idea was to show how aircraft are built not that far apart from the way the Wright Brothers did, using simple tools and a lot of perseverance and care."
The exhibit is the first the center has put together on its own, as opposed to showcasing for-fee exhibits that are displayed by such facilities around the United States. One of the reasons for picking this exhibit was to commemorate the Centennial of Powered Flight, when it opened in October 2003. The exhibit topic was also chosen because aviation and aerospace are some of the major thrust areas for industry in the Orlando area, Tonner said.
The original plans for the exhibit had been to close it at the end of May of this year, said JoAnne Newman, the center's vice president of operations and chief operating officer. However, because the exhibit has been very well received by the public, the center has decided to make "Touch the Sky" permanent, she said.
"We've gotten a lot of good comments about the exhibit, and a lot of interest," Newman said. "We get 300,000 visitors a year. Many are children on school field trips. We've had many special field trips to the exhibit to study the science of flight."
Along with the SeaRey, the exhibit features mockups of several aircraft, including a Pan American China Clipper and the 1909 Martin-09, Glen Martin's first aircraft, both donated by the Warbird Museum in Kissimmee. The Lockheed Martin Company is the major contributor for the exhibit, along with Showalter Aviation. Other contributors include Air Orlando Aviation, Inc., Fantasy of Flight, the EAA Orlando Chapter and the Greater Orlando Aviation Authority. The exhibit also includes flight simulators, a control tower mockup with simulated instrumentation and descriptions of the science and mechanics of powered flight.
Regardless of the other elements of the exhibit, the SeaRey is both Buchan and Tonner's favorite part of the display. They've both flown the aircraft and have great regard for its capabilities. Buchan has flown his SeaRey as far as Long Island in the Bahamas.
"The SeaRey is a very docile airplane," Buchan said. "It's almost impossible to do a power-on stall. It's very forgiving and easy to handle on the water, especially with the new hull design. With most seaplanes on the water, you have to keep the nose up quite a bit or they have a tendency to dig in."
International appeal and training
There are more than 30 SeaRey dealerships throughout the world.
"We just shipped two kits to Ireland and one to Norway," Richter said. "The aircraft also has received an Australian airworthiness certification and we're working on obtaining others. We hope to obtain a German CS-VLA airworthiness code approval soon, which will open up the European market."
Although the SeaRey has a reputation as an easy flyer, many pilots aren't familiar with the attitude differences required in landing approaches to a water touchdown and the handling of a water landing. That's why Progressive Aerodyne recommends that pilots who want to fly a SeaRey obtain a seaplane rating. Pilots should also consider the recurrent training offered by the company since it has other peculiarities as well. One is that the airplane is a tail-dragger. Pilots who are used to tricycle landing gear-equipped aircraft may need to get used to the attitude adjustments needed for safe dry landings as well.
"We provide 8 to 10 hours of recurrent training for our customers at a minimal cost, and we'll even fly to where the customer is located to give this type of instruction," Richter said. "More than 50 percent of our customers sign up for this training.
Richter, who has over 5,000 hours of flight time in private aircraft, of which 3,000 are in the SeaRey, said that aircraft's main attractions are its uniqueness and versatility. A majority of SeaRey owners live in Florida. Although other states have tight restrictions for water landings, in Florida the presumption is that pilots with such aircraft have the option to land on water at least once.
Florida has thousands of lakes and other large bodies of water, so there are few restrictions to the amount of recreational opportunities for SeaRey owners.
"The SeaRey is so light, and the displacement is so shallow that pretty much any puddle in Florida is an acceptable landing site," Tonner said.
For more information, visit [http://www.searey.com/].
Comments
comments