The most prestigious annual event of aviation was held at the Beverly Hilton on Jan. 22, 2009. The Living Legends of Aviation Awards honors entrepreneurs, innovators, industry leaders, and
individuals with extraordinary achievements in aviation. The list of Living Legends includes 70 remarkable men and women. This year's guests included many of Hollywood's "A" list, along with astronauts, aviation entrepreneurs, record-breakers, innovators, pilots who have become celebrities and celebrities who have become pilots. Kiddie Hawk Air Academy produces the event. Morgan Freeman is an effective spokesperson for Kiddie Hawk and challenged the audience to get involved and help inspire the next generation of aviators.
Jerry Lips welcomed the Legends, honorees, and guests and introduced the Legends and the "Flown West" segment of the program. Family members of the two Legends that Flew West in 2008 were in attendance as video tributes honored John W. Myers and Sydney Pollack.
New inductees into the Living Legends of Aviation included Skip Holm, Tony Bill, Charles Hall, Clarence "Bud" Anderson, Dr. Bonnie Dunbar, Bill Luckett and Neal Blue. Dr. Bonnie Dunbar, former NASA astronaut and current president and CEO of the Museum of Flight in Seattle, spoke on behalf of the new inductees.
Video biographies set the stage for each Legend being honored.
The first award was introduced and presented by Clay Lacy to Si Robin, owner of Sensor Systems, the world's largest aircraft radio antenna company. Si Robin holds scores of patents and has been an innovator of aircraft communications and navigation systems for over 40 years. He received the Legends Aviation Inventor Award. His acceptance speech centered on his life and friends in aviation and his deep commitment to the aviators of tomorrow.
Pete Bunce, President of GAMA and last year's recipient of the Aviation Industry Leader of the Year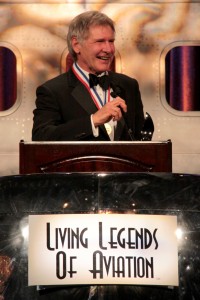 Award, presented the 2008 award to Ed Bolen, President and CEO of the National Business Aircraft Association (NBAA). With the many challenges business aviation is facing during these economic times, Ed Bolen is doing an extraordinary job educating the public and government leaders on the practical and necessary business functions aircraft provide for our nation.
Next on the program, Bill Marcy, founder of Kiddie Hawk Air Academy and builder of the GeeBee look-a-like simulator trainer, was introduced. The Kiddie Hawk trainer is taken to elementary school-aged children, sparking the passion for flight and creating future generations of pilots and aviation enthusiasts.
The awards program proceeded with Joe Clark, a past recipient of the Aviation Entrepreneur of the Year Award, presenting this year's award to Linden Blue, owner of General Atomics, and manufacturer of the Predator unmanned aircraft and founder of Spectrum Aeronautical. Blue's acceptance speech focused on his life-long career objective of advancing technology and innovation in aviation.
Last year's recipient of the Lifetime Aviation Entrepreneur Award, James Raisbeck, introduced Sir Richard Branson, chairman of the Virgin Group, which includes more than 300 companies worldwide (many aviation related). Knighted by the Queen of England for his entrepreneurial advancements, Sir Richard attended the event with Lady Branson. He began his acceptance speech by asking for a show of hands of how many people wanted to reserve a future space flight with Virgin Galactica. This charismatic entrepreneur flew in from Amsterdam to receive the prestigious Legends award.
Emily Howell Warner, first woman scheduled airline pilot and captain, and Zoe Dell Lantis Nutter, aviator, philanthropist, and director and a founder of the National Aviation Hall of Fame, were presented with the Bob Hoover Freedom of Flight Award.
An auction was then held for a 1/4-scale replica of the Folke Wolf 190 that Bob Hoover flew to freedom after escaping from Stalag 1 as a prisoner during World War II. The aircraft will be donated to an aviation museum to preserve this inspiring piece of American history.
The Legends Aviation Legacy Award was presented to Harrison Ford for his countless hours of serving as chairman of the Young Eagles program, which has introduced thousands of young people to aviation and inspired them to consider aviation careers. Sean Tucker presented the award on behalf of Cliff Robertson, who was unable to attend because of illness. Cliff Robertson was the first chairman of the Eagles program. In his acceptance speech, Ford said, "I love the challenge. I love the mystery. I love the people. I love the machines. I love the responsibility. I love the freedom."
Event sponsor, Breitling, presented a Breitling watch with the Legends Heritage Patriot Award to
Maj. Gen Bill Anders. Anders, a former NASA astronaut on the Apollo 8 mission and later chairman and CEO of General Dynamics, is president and founder of the Heritage Flight Museum in Bellingham, Wash. Major Paul "Max" Moga received the Legends Top Flyer Award and was also presented with a Breitling watch. An Air Force flyer, Moga's talents can be seen regularly on the Discovery and Military Channels and where he demonstrates the F-22 Rapture.
John Travolta, the Legend's Ambassador of Aviation, was unable to attend due to family tragedy. He sent his regrets and gratitude for the many kind words and condolences from his fellow Legends.
The award ceremonies concluded with the reading of "High Flight" by Morgan Freeman.
Many of the Legends and award attendees enjoyed the Après Awards Party, where hand-rolled Cuban cigars, libations, and aviation stories and camaraderie were celebrated.
Presenting sponsors were Beverly Hills Porsche and Bombardier Global. Other sponsors included Scheyden Precision Eyewear, the Original Club Glove, MotoArt, Jeppesen, Sparta Calendars, ICON Aircraft and Breitling Watches.
Visit [http://www.LivingLegendsofAviation.org] for more pictures and videos of the event.

Comments
comments