By S. Clayton Moore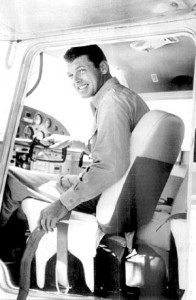 Long before "Star Wars" or "Star Trek," there was "Space Patrol." You may remember the marvelous fifties television program and its bold introduction. If so, you join the ranks of space cadets that honor the passing of its hero, Ed Kemmer, who portrayed the courageous Commander Buzz Corry. The veteran character actor died at St. Luke's-Roosevelt Hospital Center in New York City after suffering a stroke on November 5. He was 84.
He was born Edward Kemmerer on Oct. 29, 1921, in Reading, Penn. Strangely, for a man made most famous by playing a space-bound hero, he survived WWII by falling out of the sky. On June 17, 1944, Kemmer's P-51 was shot down over occupied France, during his 48th combat mission. Wounded, he was captured by a German patrol and spent the rest of the war in the Stalag Luft III POW camp in Sagan, Germany, where the famous "Great Escape" was accomplished. He got his first acting job there.
"Some of the British POWs had been there for five years!" he once explained. "They were well organized and had built a theater for plays, debates and orchestral concerts. The British asked the Americans to put on a play and we did!"
After the war, he studied acting at the Pasadena Playhouse on the GI Bill. A fellow graduate, Lyn Osborn, was playing comedic sidekick Cadet Happy on a new program called "Space Patrol" and brought in Kemmer.
Mike Moser, a Navy veteran who had trained Hurricane-hunter squadrons, created "Space Patrol." He told Time Magazine in 1952 that he came up with the show while flying over the Pacific and thinking about the universe. He wanted to give children the same sense of wonder they got from the "Flash Gordon" and "Buck Rogers" serials.
"Space Patrol" debuted as a 15-minute show on a local TV station in Los Angeles on March 9, 1950. The show was a smash with both children and adults and ABC developed it into a half-hour show. For five years, Commander Buzz Corry, Cadet Happy and their crew roamed the galaxy in their Terra V battle cruiser, battling nefarious space.
Space Patrol was broadcast live. Not only did the show's sponsors rewrite dialogue right up until the cameras were rolling, but the actors also often had to dash from a cliffhanging scene to do live commercials about Ralston Purina products.
"We would work with people who did a lot of stage and movies. They would do 'Space Patrol' and would walk off swearing and sweating…saying they would never again do a live show," Kemmer remembered.
A week of the show's busy schedule included five local 15-minute shows, two radio shows and the half-hour long Saturday show. During the height of the 3-D craze, "Space Patrol" broadcast TV's first experiment with three-dimensional imagery in the 1953 episode, "The Theft of the Rocket Cockpit." The show also inspired countless merchandise tie-ins such as the "Space-O-Phone," and had fans repeating catch phrases like "Smoking rockets!"
The show attracted a remarkable range of character actors such as Lee Van Cleef and Gene Barry, who played villains. For playing the nation's leading space hero, Kemmer pulled down eight dollars a show, but he was proud of his work.
"I played it as straight as I could," Kemmer said. "You don't play down to children. A lot of shows make that mistake. Kids see through that right away."
When the show was cancelled in 1955, Kemmer turned to playing the villain himself. He played bad guys on dozens of shows including "Combat," "Rawhide," "Maverick," "Perry Mason" and "The Twilight Zone." He returned to science fiction in fifties films like "Earth vs. the Spider" and "Giant from the Unknown." He also did his own stunt flying in the 1958 film, "The Hot Angel."
After moving to New York in 1964, Kemmer starred for over 20 years on soap operas like "As the World Turns," "All My Children," "Guiding Light" and "Edge of Night," where he met his wife, actress Fran Sharon. He retired in 1983.
Nothing beat playing Buzz Corry, though. One of Kemmer's proudest moments was hearing from an engineer at NASA that the scientist had first gotten interested in space because of Space Patrol. Kemmer told a fan recently that he never had a chance to forget "Space Patrol."
"I started receiving fan mail right after I joined the cast and it continues to this day," he said at that time. "It's a marvelous feeling to know you're not forgotten."
Comments
comments