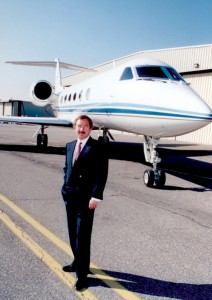 Featured in 2006
Steven Ferencz Udvar-Hazy recalls that in the early days of International Lease Finance Corp., people were skeptical about what the company was doing. That skepticism made the founders even more determined to succeed. Hazy considered watching the transformation from doubt to belief one of the most fun parts of those early years.
"When you start a company that has a novel business model, you're going to run into a lot of 'experts' who will say, 'This will never succeed,'" he said. "A lot of banks, a lot of people who are considered sophisticated, will tell you all the things that are wrong with what you're trying to accomplish. The more we heard people say, 'This is never going to work,' the more we were determined that we did have the successful formula, that we did have something that the worldwide airline industry needed. Three, four years later, the people who were the skeptics would go around saying, 'Oh, we were their best friends,' and 'We are your number one supporters.' All of a sudden, their tune changed. So that was kind of fun to watch."
But Hazy said the intention was never to "prove anything" to those skeptics.
"We just believed that what we were doing was the right thing," he said. "We didn't hold any animosity towards the skeptics. But it was fun to see them suddenly change the color of their outfits. They became big supporters, claiming they were always behind us, backing us, when in the early days, in fact, many questioned our future success."
After moving to New York as a youth, Hazy spent many afternoons at Idlewild Airport (presently John F. Kennedy International Airport) in Queens. He made friends with mechanics so he could watch them work in the hangars. Also, he made frequent trips to the control tower, where he'd take pictures and carefully track planes, entering where they were going in his notebook.
In 1961, while visiting his parents' friends in Galion, Ohio, 15-year-old Hazy took his first flight in a U.S. general aviation aircraft, a Piper Cub.
In 1962, the family moved to Los Angeles. At the age of 16, Steve Hazy started taking lessons at Whiteman Airpark, near Burbank Airport, in a Cessna 150. To afford the $9 an hour needed to fly the 150 and the equal amount needed to pay the instructor, Hazy held a couple of part-time jobs.
"I would lifeguard in the summer for two bucks an hour, and I washed cars for a dollar," he said. "I didn't have a lot of money, so I could only take a few lessons at a time."
He was finally able to solo at the age of 18. After high school, when it came time to pursue further education, Hazy couldn't afford to go to a private school. He began attending UCLA, where he majored in international economics and business. His intention was to start an airline one day.
"At that age, you think you know everything, and you know nothing," he said. "In my naiveté, I wanted to start an airline and fly airplanes."
He looked to PSA as a role model.
"They were fun and innovative, different than the rest," Hazy said. "And they had cute flight attendants. At 18, that's important."
When he was 18, he also started a consulting company, which he named Airline Systems Research Consultants.
"I thought if it had a fancy name, people would think it was sophisticated," he said.
To keep his age a secret, he had a few tricks.
"I would never appear in person," he said. "I would write letters and send telegrams, and send secret little things in the mail to the airlines, telling them little things they could do to improve their operation. Most of them, of course, were rejected. But there were a few that listened."
He said he felt he could help these companies because he "saw obvious imperfections in what they were doing."
"Some airlines had too many types of airplanes, and I could see that they could consolidate and do things more efficiently," he said.
Aer Lingus, a small government-owned airline in Ireland, became his first account in 1966.
"They had way too many types of planes," he said. "Their whole operation was a mishmash. I wrote to them suggesting a much straighter, streamlined plan. They liked what I thought, and they gave me free tickets to come to Ireland. They paid me $4,000, which was a lot of money in those days."
As he expected, the airline soon saw an improvement.
"I gave them a strategic plan that they pretty much follow to this day," Hazy said.
Comments
comments