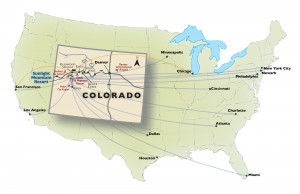 Sunlight Mountain Resort, 10 miles southwest of Glenwood Springs, Colo., is for sale for $50 million, according to Richard Schafstall, president and CEO of Sunlight Mountain Resort.
The sale of the venerable ski area and year-round resort includes the U.S. Forest Service permit for the 2,081 acres (including 67 trails and 470 acres of skiable terrain), four lifts, a base lodge, the Sunlight Ski School and Children's Center, a food and beverage operation, a snowmobile tour company, and rental-retail outlets onsite and in Glenwood Springs.
Recording more than 100,000 skier visits during its busiest year, Sunlight Mountain Resort is situated midway between and less than an hour from both Vail and Aspen and for many years has been an affordable alternative for visitors and locals alike.
"We believe we offer potential buyers a unique situation," said Sunlight General Manager Tom Jankovsky. "Not only are we in a growing region, but we also have all the amenities of historic Glenwood Springs, including the world's largest hot springs pool and new Glenwood Caverns adventure park and Iron Mountain Tramway.
"We also are only about a half-hour away from the ever-expanding Eagle County Regional Airport with its six major national carriers and a private aircraft jet center. As well, cross-country Amtrak trains make daily stops at the Glenwood Springs station. Sunlight Mountain Resort is owned by Sunlight, Inc., a Colorado corporation consisting of 34 shareholders. According to a spokesperson, the company is selling in order to take Sunlight to the next level.
"To be able to compete with all the other Colorado ski areas and mountain resorts, a great deal of cash infusion is required," that spokesperson said. "The existing owners believe a new owner would be better capable of providing that cash infusion and a master plan acceptable and supported by Garfield County and the community in which Sunlight Mountain Resort is located."
Jerry D. Jones & Associates, based in Avon, Colo., has been selected as the exclusive listing real estate brokerage. Jones, a fixture of the Colorado mountain resort industry, with tenures as president of Keystone and Beaver Creek resorts, expressed enthusiasm about his involvement.
"How often does a Colorado ski resort come up for sale? The potential for buyers is enormous," Jones said.
For more information, contact Jerry D. Jones Real Estate at 970-748-3086, 70 Benchmark Road, Suite 102, P.O. Box 5570, Avon, CO 81620.
Comments
comments