A good venue can make a great show shine even brighter, which was the case at the Porsche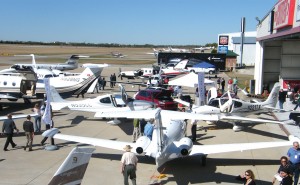 Business Aircraft and Jet Preview in Dallas, Texas. Porsche concluded its 2008 tour of the United States at this fall preview, and guests discovered that there's nothing like southern hospitality.
There are many great airports in "Big D" that could have hosted the event, but few can match the down-home spirit provided by Cutter Aviation and Dallas Executive Airport (RBD). Affectionately called "Redbird" by many, the airport is owned by the city of Dallas and operated by airport manager Lana Furra.
Greeting the visitors at Cutter were the smiling faces of Calvin Martin, Charles Brister and Laurie Rodriguez, whose warn welcomes captured the state motto of Texas, "Friendship." Everyone smiled as you drifted past the impressive displays of Porsche sports cars and SUVs intermingled among the newest lines of business and personal aircraft, all sweetly gleaming in the Indian summer sunshine.
The perfect short-sleeved shirt weather allowed over 700 attendees to leisurely talk with company representatives eager to explain the features of their state-of-the-art models of cars and aircraft.
In addition to Park Place Porsche, exhibitors included Advocate Aircraft Taxation, Aviation Sales, AvantAir, Center Capital Corp., Cessna, Cirrus, Dallas Aircraft Sales, Diamond, Embraer, Executive AirShare, Hawker Beechcraft, Holiday Inn Express, Jet Alliance, Mooney, Piaggio, Piper, Plane Smart, Premier Aircraft Sales Socata, Tennant and Virgin Charter.
Guests were treated to a delicious lunch sponsored by Jean Dalmolin of Executive Aircraft Catering, followed by a light and lovely fruit dessert buffet.
Runway 17-35 was closed to air traffic while an improvised race track was set up by Porsche Sport Driving School from Atlanta. Shuttle vans took guests to the south end of the airport for exciting hands-on thrill rides. Instructors took the passenger seat while guests put four Carrera S racers through their paces. Then the professionals took the wheel to demonstrate how the car "should be driven." Each guest exited the car with a huge grin on his or her face.
Registration continued until mid-afternoon as the event drew to a close. From reviews given to this reporter, a splendid time was had by all. Despite a downturn in the national economy, everyone highly anticipates attending next year's event. That Texas hospitality will be there to welcome them all.
Comments
comments