By Fred "Crash" Blechman
Have you ever been concerned about passing a pilot's flight physical? If you fail, you could be grounded as pilot in command. If you were applying for military flight training, flunking the flight physical could keep you from ever getting into military pilot training. This is what I was faced with in the late 1940s. The Schneider Exam, part of the standard Navy flight physical in those days, almost kept me from earning my naval aviator wings of gold.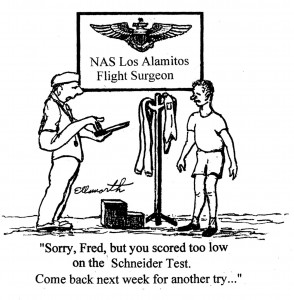 My first recollection of the Schneider Exam was back in July 1945, in New York when I entered the Navy V-5 program. This offered an accelerated two years of college—as an apprentice seaman—before going into flight training as an aviation cadet.
I had no problem passing the entrance physical, which included the Schneider Exam. After finishing the college requirement, I was sent to Dallas, for Selective Flight Training—an elimination program. I again passed the physical and after eight hours of dual instruction, I soloed an N2S-4 Stearman, on Sept. 16, 1946.
Those of us who soloed were sent to Ottumwa, Iowa, in the cold, snowy dead of winter for pre-flight and primary flight training—except for a drastic change. That's when the Holloway Plan, named after an admiral, suddenly was put into force. World War II was over, and too many cadets were in the pilot pipeline. We were told we would have to sign up as aviation midshipmen for four more years, with no officer commission for two years—even if we earned our pilot wings sooner.
We were also told that if we stayed at Ottumwa through the cold winter, we'd be pushing Stearmans around—they called it "tarmac duty"—for at least six months before getting into actual flight training. Or, as an alternative and inducement to reduce the pool of flight trainees, we were allowed to keep all our neat officer-like uniforms and receive $200 mustering out pay if we went back to civilian life. Also, we could continue college on the G.I. Bill. I considered that, with the radical downsizing, my chances were poor of completing flight training, so I accepted the alternative and quit the Navy to finish college.
However, I maintained contact with former pre-flight classmate John Higson, who stayed, and heard about the new "Ab Initio" program my former classmates were beginning at Cabaniss Field in Corpus Christi. They were starting out in SNJs, formerly an advanced trainer, as the primary trainer, instead of the Stearman. I would've been in the first class to do this!
This drove me nuts, so in the fall of 1948, I decided to get back into Navy flight training, now as a naval aviation cadet, a new designation that officially began on June 22, 1948. But my life had gone through a number of changes. I was two years older, and in a totally different environment.
After leaving the Navy in 1946, I attended college in New York. In November of 1947, I entered aeronautical engineering training at Cal-Aero Technical Institute in Glendale, Calif., at the Grand Central Air Terminal, near Los Angeles. (Both the school and the airport are gone now. The former airport is an industrial complex.)
I was going to school under the GI Bill, which paid the school tuition, and provided minimum living expenses. I survived in a cubicle in a former WWII barracks at the airport, but needed some money for other expenses. So, in addition to long and strenuous studies during the day, in the evenings I worked in the school mess hall washing pots and pans. Then, at about 8 p.m., I took a bus to a local Sears warehouse and assembled steel shelving for four hours each night, catching a late bus back to the barracks.
When I took my first entrance physical in mid-1948 at the Los Alamitos Naval Air Station—itself a long, tiring bus-ride (with transfers) from Glendale—I wasn't in the best of shape. This became apparent with the results of the Schneider Exam portion of the flight physical.
The Schneider Exam was intended to provide a measure of circulatory efficiency. It basically involved a medical technician taking applicant blood pressure and pulse readings three times—laying down, standing up, and after light exercise. The exercise consisted of stepping up and down on a stool 10 times, as I recall. The results of each of the blood pressure/pulse readings were then entered into a complex chart that yielded a number, with "18" being best. My reading came up "8."
"Well, although 8 is passing," the troubled technician said. "We really are looking for 11 or better for a navcad applicant. Why don't you come back next week?"
The next week I returned, and the Schneider Exam came up with a "4"! Wow! I had gotten worse, probably a result of nervousness at having not passed the first time, and also because of all the hours I was studying and working. In the next two weeks I returned and got a "0" and then a "-4" on my Schneider Exam! Boy, was I nervous!
"Hmmmm," the officer-in-charge remarked as he looked at my medical report after the last try. "It seems you passed the first time, but have gone down hill ever since. No doubt you are too concerned about passing the Schneider.
"Tell you what. We haven't reached our quota of navcad recruits and you certainly qualify in all other respects, so we're going to change the initial Schneider reading of 8 to an 11, so you can qualify as a navcad to go to Pensacola—but don't tell anyone. Is that okay?" Needless to say, I was elated! Pensacola, here I come!
In early November 1948, I received my orders to take the train to Pensacola for pre-flight. My buddies at school decided to have a going-away party for me the night before I was to board the train. The guys invited their girlfriends and we gathered at a local watering hole.
I was not a "drinker" then (and am still not) and I thought I was drinking Coca-Cola all evening. I later found out that every time I turned my back, someone poured some whiskey into my glass, until eventually I apparently was drinking straight whiskey without knowing (or caring, at that point)—and I finally got sick and passed out!
I'm told I was literally carried aboard the train to Pensacola the next morning. For three or four days, as the train slowly crossed the country from California to Florida, I was a mess—sick, weak, miserable. By the time we got to Pensacola, I really didn't give a damn about the Navy, flight training, or anything else. I was a zombie.
On my entrance physical, with "18" being best, "11" desired, and "8" passing, I got a "14"—probably because my former nervousness was replaced by complete complacency. I just didn't care if I passed or not.
So much for the efficacy of the Schneider Exam—and perhaps the reason it was dropped from Navy flight physicals many years ago.
Incidentally, 21 months later, on Aug. 23, 1950, I received my wings of gold, and flew F4U-5 Corsairs in the Sixth Fleet with the VF-14 "Tophatters."
Fred Blechman's 376-page book, "Bent Wings—F4U Corsair Action & Accidents: True Tales of Trial & Terror!" is available at [http://www.amazon.com].
Comments
comments