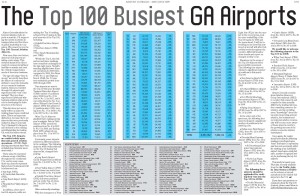 Airport Journals salute the General Aviation (GA) airports across the U.S. supporting the needs of private air transportation and the future of global leadership for our nation. We present to you the Top 100 General Aviation Airports.
Now more than ever before, America's GA airports are taking center stage. This elevated status is the direct result of commercial airlines' inability to sustain and meet the critical transportation needs of American business.
The age-old adage "time is money" succinctly describes the failure of commercial airlines to meet the demands of our country's business leaders. Have you traveled through GA airports and experienced the "real" time savings? Then you have experienced first-hand why business aviation plays a key role in developing the infrastructure of the future.
This data does not necessarily reflect an airport's ranking based upon retail fuel sales. This is an important distinction, because there are airports that were previously ranked in Airport Journals Top 10 Busiest GA Airports and declined in the ranking notwithstanding increasing GA retail fuel sales volume.
The Top 100 Airports are ranked solely upon itinerant general aviation operations. (NOTE: Flight training movements have been excluded from itinerant movement totals.)
These airports represent a diverse array of facilities throughout the continental U.S., and in many cases these top airports represent high-volume business aircraft locations such as:
• Van Nuys (VNY),
• Ft. Lauderdale Executive (FXE),
• Long Beach Airport (LGB) and
• Phoenix Deer Valley Airport (DVT)
In addition, other excellent GA airports, while not making the Top 10 ranking, achieved Top 25 status in this year's survey of the Top 100, including:
• Dekalb-Peachtree Airport (PDK),
• Teterboro Airport (TEB) and
• Vero Beach Municipal Airport (VRB)
Within the Top 5, the first and second place rankings have remained unchanged for the last eight years. Notwithstanding slightly lower itinerant operations in 2008 when compared to 2006, Van Nuys (VNY, No. 1) and Daytona Beach (DAB, No. 2) have seen sustained growth from 2006 through 2008.
Two airports are new to the Top 10 this year. Kendall-Tamiami Executive Airport (TMB) vaulted 17 positions since 2006 from No. 21 in 2006 to No. 12 in 2007, and it currently sits in the No. 3 position. Richard Lloyd Jones Jr. Airport (RVS) has advanced 12 positions since 2006, moving from No. 17 in 2006 to No. 14 in 2007 to No. 5 in 2008.
Other Top 10 Airports shuffled their ranking in this year's analysis. Falcon Field Airport (FFZ) moved two positions from No. 8 in 2007 to No. 6 in 2008, and Boeing Field (BFI) advanced one place from No. 11 in 2007 to No. 10 in 2008.
Conversely, some airports achieved a different position in the rankings. The following airports, while well-positioned on the Top 10 Busiest GA airports list, changed their posting:
• Long Beach Airport (LGB) dropped four positions from No. 3 in 2007 to No. 7 in 2008
• Deer Valley Airport (DVT) moved down one notch from No. 7 in 2007 to No. 8 in 2008
• Dekalb/Peachtree Airport (PDK) fell seven positions and out of the Top 10 (from No. 5 in 2007 to No. 12 in 2008)
Other noteworthy standings
With the emergence of Very Light Jets (VLJs) into the market in the recent years, look for more reshuffling of the Top 100 spots for 2009 and the years ahead. It will be interesting to see how this new breed of aircraft will affect GA activity levels throughout the country. ARGI will monitor these trends and report on changes as they occur.
Elsewhere in the array of the Top 100 Airports there is perceptible movement. The following four airports climbed a significant number of positions in this year's
Top 100:
• New Smyrna Beach Municipal Airport (EVB) from No. 84 in 2007 to No. 27 in 2008
• Portland-Hillsboro Airport (HIO) from No. 65 in 2007 to No. 35 in 2008
• Fort Worth Meacham International Airport (FTW) from No. 86 in 2007 to No. 45 in 2008
• Flying Cloud Airport (FCM) from No. 88 in 2007 to No. 54 in 2008
At the other end of the spectrum, the following four airports dropped a significant number of positions in the 2008 Top 100:
• Dallas Love Field Airport (DAL) from No. 22 in 2007 to No. 44 in 2008
• Phoenix-Mesa Gateway Airport (IWA) from No. 25 in 2007 to No. 47 in 2008
• St Petersburg-Clearwater International Airport (PIE) from No. 27 in 2007 to No. 62 in 2008
• North Las Vegas Airport (VGT) from No. 37 in 2007 to No. 67 in 2008
The following three airports should be applauded for vaulting their way into the Top 100 in 2008:
• Pueblo Memorial Airport (PUB) from No. 137 in 2007 to No. 80 in 2008
• Castle Airport (MER) from No. 424 in 2007 to No. 86 in 2008
• Fernando Luis Ribas Dominicci Airport (SIG) from No. 132 in 2007 to No. 87 in 2008
We would like to welcome the following airports to the Top 100 in 2008:
• Wiley Post Airport (PWA) from No. 101 in 2007 to No. 93 in 2008
• Brackett Field Airport (POC) from No. 124 in 2007 to No. 95 in 2008
• Manassas Regional Airport/Harry P. Davis Field (HEF) from No. 116 in 2007 to No. 97 in 2008
• Lancaster Airport (LNS) from No. 103 in 2007 to No. 99 in 2008
Airport Journals commissions Aviation Resource Group International (ARGI) to conduct this research and compile the data annually. ARGI is the leading information consulting resource for aviation, and by providing more "knowledge" about the top airports serving general aviation, the business and recreational aviation community will become more aware of those airports central to the growing success of the private/corporate aviation marketplace.
Once again, the reader should note that the following ranking is predicated upon "total" itinerant GA operations and does not necessarily reflect the ranking of an individual airport based upon retail fuel sales, another recognized metric for positioning the top GA airports.
This study is based upon FAA data recently available from the Air Traffic Activity Data System (ATADS) on the volume of aircraft operations at the busiest GA airports in the U.S.
If you have any questions or comments about the Top 100 Airports, please email them to Letters@AirportJournals.com.
Comments
comments