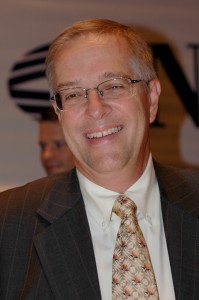 Featured in 2005
Vern Raburn, the founder, CEO and president of Eclipse Aviation Corporation, recently said there'd been no competition in general aviation for a "long, long, long time." He set out to change that, becoming an impetus for competition.
Born in 1950, Raburn found his love for aviation while growing up in Oklahoma. His father's work was partially the cause.
"My dad was chief engineer at Douglas Aircraft in Tulsa, so I was always around airplanes," he recalled. "He was never a pilot. He wanted to be, but couldn't afford it with our traditional family; my mother was always a stay-at-home mom."
Raburn's father began working in the space program in 1957, about three months after Sputnik 1 went up, and spent the rest of his career in the program. He retired as vice president in charge of the Delta missile program.
"He wasn't directly involved in aircraft, but he worked in the aerospace industry for his entire career," Raburn said.
His uncle was a flight-test engineer for Cessna during World War II.
"In history books, one photo shows him in the right seat of the UC-78 Bobcat," he said proudly.
That uncle would play a big part in Raburn's obsession.
"We lived in Tulsa, in eastern Oklahoma, but every summer my brother and I would stay with my aunt and uncle in the western part of the state," he said. "They owned a big wheat farm in a little town called Guymon. They were my second set of parents. They had two girls; they would trade kids each summer with my folks."
Raburn first flew in an airplane while staying at the farm.
"It was on a Central Airlines DC-3," he recalled. "That was pretty impressive to a 7-year-old boy. I sat on the lap of the pilot and steered the airplane. That was in the days where the only barrier between the cabin and the cockpit was a curtain."
When Raburn was a little older, he plowed fields for his uncle.
"I'd be sitting on a tractor about 6 in the morning, going three miles an hour up and down a mile-long field," he said. "During the day, there wasn't anything to look at except the sky, which particularly in western Oklahoma was alive—really fascinating to watch. The morning would be clear and blue; by noon, we'd see all these little puffy clouds. Then by 3 p.m., we'd have these monster thunderstorms."
Since they were on one of the major flyways between the West Coast and the East Coast, they'd often see Lockheed Constellations and Douglas DC-6s flying overhead.
"Later it was jets," he recalled. "It was fascinating to think about where those people up there were going."
Raburn's interest led him to join the Civil Air Patrol when he was 11 years old.
"The first time I actually flew an airplane was when I was about 12," he said. "It was a Piper Cub—a Civil Air Patrol plane."
After his father transferred to Southern California to work at the Douglas headquarters in Santa Monica, 16-year-old Vern earned money for flying lessons by mowing lawns and working a paper route. He soloed in a Cessna 150 at Torrance Airport (Zamperini Field Airport).
Raburn's eyesight prevented him early on from making a career in the field of aviation. Since he loved "tinkering with things," he logically majored in aeronautical engineering at Cal Poly in San Luis Obispo, Calif.
"I ended up graduating from Long Beach State, but I did about four years at Cal Poly," he said. "I was going to graduate in aeronautical engineering, but then a billboard went up in Seattle that said, 'Last one out, turn out the lights' (a reference to the national aerospace industry's nosedive). I decided that was a career-limiting move and ended up changing my major to industrial technology, which was a cross between technology and marketing."
On track to graduate in 1972, Raburn instead graduated in 1976.
"I dropped out and started working for the 3M Company," he said. "I worked for them for about four years and finished up my degree at night."
The year he graduated, he left 3M and founded the Byte Shop in Westminster, Calif. After other ventures, he became president of Vulcan's Paul Allen Group. His day-to-day procedures there would eventually lead to the formation of Eclipse Aviation.
Comments
comments