By Jeff Mattoon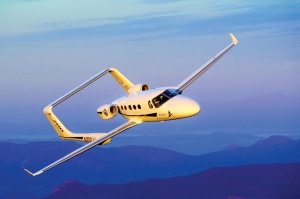 For centuries, the Chinese have celebrated their New Year inside a 12-year cycle. Twelve animal names are used in this cyclical method of recording years, and in Chinese folklore, each animal characterizes the fortunes of the coming year.
One day, according to legend, all the animals argued about which one was to lead this 12-year cycle. The gods were asked to decide, and they finally agreed to a contest: the animal that first reached the opposite bank of the river would be first in the cycle; the rest of the animals would receive their years according to their finish.
When the 12 animals gathered at the riverbank to settle this important dispute, the ox confidently charged into the water, not knowing that the rat had jumped on its back. Just as the ox was about to climb ashore, the rat jumped to shore first and won the race. The very lazy pig finished last. This is why the rat is the first year of the animal cycle, the ox second and the pig last.
This year, 2006, is the Year of the Dog. Traditionally, this year purports to be a difficult year, in which the dog may need to constantly fight off the competition. It's a time to lie low, joining forces with others, instead of acting independently.
Who in the VLJ business will most effectively and strategically bring their product to market? Who will fend off the competition the best? Who will ultimately roll over and quit? Will the dogs have their way?
Following is our assessment of the progress within the very light jet industry. Who are the players and how far have they progressed? Before we start, however, we must tend to some business.
What's in a name?
Back in the days before "very light jet" stuck as the most commonly used term for this new industry, many names were used to describe these smaller jet aircraft. It's not completely clear who coined the term very light jet, but most attribute it to Vern Raburn of Eclipse Aviation.
Among the other names used were "mini jet," "compact jet," "microjet" and "personal jet" (which according to Raburn, was a play on the personal computer). Personal jet, which seemed to be the leading descriptor until very light jet came around, is now being used by Cirrus to describe a small jet they plan to produce. According to Raburn, microjet didn't take hold for two reasons. The first was that it was looked at as derogatory in terms of the actual size of the aircraft. The second was that visionaries wanted to reserve the term for a future class of jets that would be even smaller than VLJs.
Like the gravitational pull of a black hole, all manufacturers of these new-breed, new category lighter-than-light-jets were lumped together. Apparently now, not all want to be "lumped." At least two manufacturers have publicly indicated a move away from the "VLJ" nomer. Others seem to prefer another description, but no one has come up with a better one. "Entry level jet" is being tossed around, but it might be moot anyway. The VLJ name train is rolling, and it appears it's going to be with us a while.
If it looks like a duck and quacks like a duck.
This name game has put journalists who are paying attention to the industry in a quandary. It's nice to have little boxes to place products. It's really nice to have boxes within boxes, for making easier comparisons. However, if each manufacturer describes their product by saying "It's not a VLJ, it's a…" or if every couple of years, we change the name of an aircraft grouping, then reporting and marketing anarchy ensues. When the "industry" moves in a direction, who's in and who's out? Who couldn't care less?
This year might be the year of the VLJ or the year of the not-exactly-very-light-not-exactly-light-not-exactly-heavy-jet. We'll see. We hope the manufacturers will either collectively come up with a category name (unlikely), or simply not be bashful about "VLJ" and place theirs in a subcategory, like personal VLJ, or luxury VLJ, sporty VLJ or entry level VLJ.
Another quandary is the many aviation companies that have come along, saying they have a VLJ product. Practically anyone can build a jet, slap an "experimental" sticker on it and call it a very light jet. In the interest of clarity, we'll begin to distinguish between products, and attempt to weed out aircraft that really don't belong in the VLJ category.
It might be nice if the Federal Aviation Administration would do the dirty work for us: something has these specs; it's in and the ones that don't, aren't. Since that will never happen, we'll apply some creative deciphering. Here's a list of VLJ qualifiers. If your jet meets each of these tests, it's a VLJ. If it doesn't, it's not. Simple.
1. Intent to obtain FAA certification.
2. Single pilot operation.
3. Maximum takeoff weight of 10,000 pounds or less.
4. Total seating of eight or less.
Intent to obtain FAA Certification
If the aircraft is truly meant to be a homebuilt, it's not a VLJ and won't be reported as such.
A perfect example is the Viperjet, which Airport Journals reported on recently. Though everything about the Viperjet seems "VLJ," the Hanchette brothers, company founders and owners, have no intention of chasing after FAA certification for their product. Consequently, the Viperjet will not receive "VLJ treatment" in this column. It may be a great product, but we'll report on it in a different forum.
Another aircraft conspicuously missing from this report is the HondaJet. To date, Honda insists the project is experimental only. As such, it's not a VLJ–yet.
Single pilot/owner-operated
This is a qualification that truly defines the category. Besides the radically smaller jet engines created in the past five years, one-pilot operation is the revolution behind the VLJ movement. One pilot can legally fly a general aviation, FAR Part 23 certified jet aircraft.
Of course, reams of paper could be used to contain the argument of exactly when many general aviation pilots will become proficient enough to be type rated or receive an insurance company's seal of approval. But the fact that they can do it is significant.
MTOW
At some point, weight obviously becomes another qualifier. Very light jets are deemed such if they meet the above criteria and have maximum takeoff weight of 10,000 pounds or less. The products we'll consider in this update range from 4,900 lbs. to 9,250 lbs. MTOW. If you think you know which VLJ is the heaviest, you're probably wrong. Read on.
Seating
This is the least important qualifier. Least important for this discussion, but not least important if you actually want to insure yourself to fly your VLJ.
The number of total potential passengers could mean the difference between a competent twin-engine GA pilot needing 200 dual hours in his new slick jet or needing 1,500 hours to be insurance qualified.
Now that we've set the ground rules, let's get on with the review.
Adam Aircraft – A700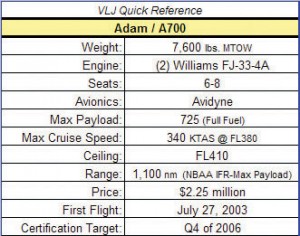 There seems to be a consensus that the Adam A700 is among the frontrunners in the VLJ industry. As a frontrunner, the company makes smooth, steady progress. Much has been written about the A700's looks, and regardless how you feel about those looks, no one will mistake it for any other VLJ aircraft.
The A700 proof-of-concept aircraft has logged some 300 hours, and Adam Aircraft has sold nearly the same number. The first conforming aircraft rolled out in November 2005. Certification is expected for later this year.
"All of the advantages made to date to the A700 serial number 001 … have been incorporated into A700 serial number 002," stated Joe Walker, company president and COO, during the 2005 NBAA convention. "Since last year's convention, numerous upgrades have been made to the aircraft including the Avidyne PFDs & MFDs, fuel belly pod, autopilot, pressurization, expanded nose configuration and gear doors."
ATG – Javelin Mk-10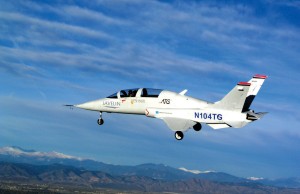 Last year, the industry had a lot of anticipation for VLJ's super-coup Javelin to take to the sky–and take to the sky it did. Over a one-month period, the Javelin flew three 35-minute sorties, shaking out its tail feathers. With flaps at 10 degrees and landing gear down, top speed for the maiden flights was kept at 135 knots and max altitude at 14,000 feet.
Holidays, chase-plane down time and minor adjustments to the Javelin prototype, including adding the ability to fully retract flaps and gear, left the bird on the ground (do not read "grounded"), but flight tests are due to resume shortly.
The Mk-10 leads the way for the Mk-20, a military trainer version of the civilian VLJ. The company suggests "The Javelin Mk-20 is a result of a cooperative effort between ATG and Israel Aircraft Industries, to address the global need for a next generation trainer that cannot be matched."
Cessna – Citation Mustang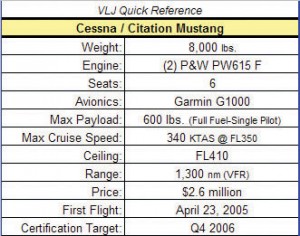 The Mustang represents a new entry for the old guard in aviation, Cessna. The Mustang will be the 27th airplane the company has certified in a decade–more than any other aircraft manufacturer.
The Mustang received type inspection authorization from the FAA in December, signaling the aircraft can now accumulate flight hours toward certification.
"The Mustang prototype and serial number one have made more than 290 flights, accruing more than 490 hours. In addition, the fatigue test article has completed two lifetimes (30,000 hours) of testing, with no damage to the aircraft structure," said Russ Meyer III, Mustang program manager. "This is recognized by the FAA as the baseline to prove the durability of an airplane, and we will continue testing to five lifetimes (75,000 hours)."
Diamond Aircraft – D-Jet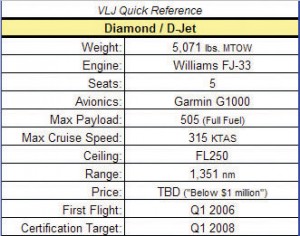 Austrian and Canadian airplane builder Diamond Aircraft is moving forward with the D-Jet VLJ. Last year, many had doubts regarding the project, but company representatives indicate that the single-engine D-Jet prototype is deep into production, with first flight scheduled for this month.
If VLJs had subcategories, the D-Jet might be one of several "entry level" VLJs. With its four-passenger seating, low approach and stall speeds, and with its ceiling at 25,000, insurability should remain high.
Eclipse Aviation – Eclipse 500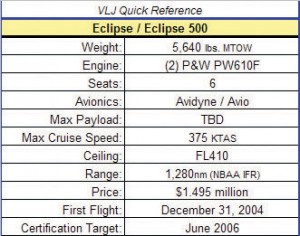 Another frontrunner in the race, arguably the frontrunner, is Eclipse Aviation, but this comes not without some stumbles. Last year, Eclipse projected certification of the Eclipse 500 would happen this month, but as is normal in airplane building, schedules get adjusted. Of course, an adjusted schedule is no stranger to this company. Supplier delays are blamed.
But make no mistake; Eclipse is barreling toward June certification with seven test aircraft (five used for flight tests and two used for static and fatigue testing). In more than 750 flights, those five aircraft have racked up some 1,000 hours of flight testing.
The FAA issued a TIA for the Eclipse 500, and that makes company president and CEO Vern Raburn quite happy.
"Six years ago, we pioneered the VLJ category with a vision to change air travel, and it's incredibly rewarding to move even closer to our goal of bringing the world's first VLJ to market this summer," said Raburn. "We designed the Eclipse 500 to provide our customers with an unprecedented dispatch rate, and we're experiencing the benefits of this commitment firsthand, as our test fleet achieves critical test points and builds hours at an astonishing rate."
Embraer – Phenom 100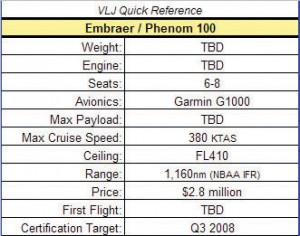 One of the newest entries in the VLJ category is the Embraer Phenom 100. Using its 37 years of experience, Brazilian aircraft manufacturer Embraer is designing and building what must be called the super-luxury Phenom 100.
BMW Group DesignworksUSA is creating the interior, which boasts the largest cabin volume among leading VLJ manufacturers. True executive jet appointments and a lavatory will adorn the inside of the Phenom 100. In addition to the typical VLJ interior configuration, purchasers can opt for a limo (no lav) or air-taxi design.
What one initially notices in the cockpit are two stylized motorcycle-type yokes, which offer a hint of things to come. The avionics complement features Embraer's Prodigy flight deck system, with three 12-inch displays, two primary flight displays and one multi-function display. The system integrates all primary flight, navigation, communication, terrain, traffic, weather, engine instrumentation and crew-alerting system data.
Epic (TAM-Air) – Epic-Jet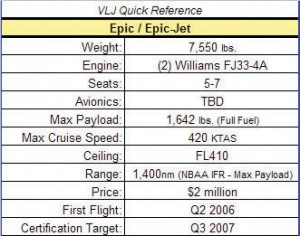 Late last year, Tbilisi Aircraft Manufacturing entered into an agreement with Oregon-based Epic Aircraft to build the EpicJet and market it in the U.S. under license from TAM.
Epic Air's new 100,000-square-foot plant in Bend, Ore., is a duplicate of TAM's plant in the Republic of Georgia, in Eastern Europe. For sales in parts of Europe, Asia and the Middle East, the partnership is called TAM-Air. For sales in North America, it's called Epic.
The all-composite EpicJet can be characterized as a flying bull dog. Its weight and size are diminutive, but its power brings pause.
Dual Williams FJ33-4As create enough power for the EpicJet to be a leader in its class, in both maximum payload and maximum range–a whopping 1,400 nm, which is measured with maximum passengers and maximum cargo.
Eviation Jets – EV-20 Vantage Jet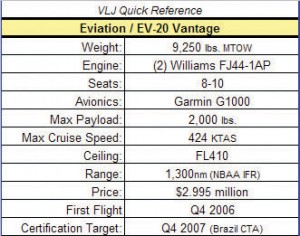 Reincarnation or resurrection: one or both have occurred with the EV-20.
What once was VisionAir is now Eviation. Eviation's CEO, Matt Eller, of Ames, Iowa, grabbed $100 million worth of capital equipment and intellectual assets in a bankruptcy sale in 2003, and has quietly assembled an impressive management team to catapult the Vantage Jet from obscurity into history.
In addition to hiring Greg Powers to serve as president and COO for Eviation, Eller foraged until he found two secret certification weapons. The first is Guido Pessotti, president and chief engineer for Eller's subsidiary company, Eviation Jets Brazil. Pessotti, retired president of Embraer, has 35 years of aircraft design and certification experience. He's designed and certified 15 jet aircraft and is responsible for certification and managing Eviation's aerospace team.
Secret weapon number two is Hugo Piva. Piva, a retired Brazilian Air Force brigadier general, is vice president of certification and QA. Piva is also the founder of the Brazilian Center for Aerospace Technology, the governing authority for all aircraft certification in Brazil. General Piva is known as "The Father of Brazilian Aerospace."
By obtaining certification first with the CTA in Brazil, the EV-20 can be on the fast-track and certainly doesn't have to compete with all the U.S. VLJs seeking certification from a busy FAA.
"The FAA and the CTA have a reciprocal agreement, which means that once we're certified in Brazil, add about a quarter to the time and we should have FAA certification," says Powers.
Eller and the design team have decided to scrap more than 70 percent of the original Vantage design and breathe fresh air into the EV-20. A concern was the mid-fuselage mounted wing. By moving it lower, the VLJ gained more passenger and cargo capacity.
At 9,250 MTOW, the EV-20 barely meets the VLJ criteria, and is, at this point, the heaviest VLJ.
Keep an eye on Eviation. This team, with its obvious certification advantage, may blast past many also-rans in the VLJ race.
Excel-Jet – Sport-Jet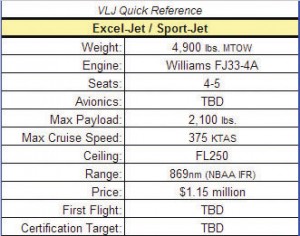 If VLJs had an "entry level" category, the Sport-Jet would be its poster child. Not by lack of performance, however, but through its built-in insurability characteristics.
Small-jet pioneer Bob Bornhofen has intentionally designed his Sport-Jet with underwriters in mind. He knows, because he's asked what they look for in an affordable-to-fix aircraft. He knows what they look for in demands on, and exposures of, the pilot.
Using only the wings as an example, Bornhofen designed for minor damage and easy repair, in the event of a gear-up landing. By moving the wings higher on the fuselage, only the belly and the wing tips are exposed in such a landing. According to the aeronautical engineer, this is much less costly to fix than an entire wing, with concealed and costly landing gear, coming into contact with the ground.
Pundits would say that you give up passenger and cargo space with that type of engineering, in which case Bornhofen would say, "Good!" Limiting the number of passengers to four or five dramatically increases your likelihood of affordable insurability.
And, by limiting the aircraft to a single engine, you simplify what the pilot must do in a flame-out.
"He won't be thinking about whether or not he should go around and try to land back at the airport. He'll immediately be thinking about where to land, period. He and his passengers are more likely to survive in a situation like that," offers Bornhofen.
By limiting the ceiling to 25,000 feet, there's less to go wrong and the pilot has more time to react in the event of a pressurization problem–again, something the underwriters like.
Spectrum Aeronautical – Spectrum 33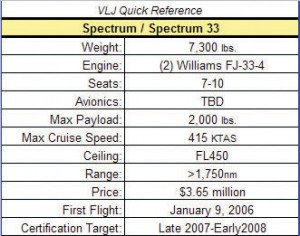 In a surprise announcement on Nov. 8, 2005, aviation veteran Linden Blue declared that his company, Spectrum Aeronautical, had built a new high-performance business jet. In fact, they were so far along with the project that two months later, he announced first flight–finished paint job and all.
The Spectrum 33, a joint-design venture between Spectrum and Rocky Mountain Composites of Spanish Fork, Utah, displayed a powerful first flight.
"They had so much thrust that they reduced power to about 50 percent as they accelerated through 60 knots. They were in the air after about 800 feet of ground roll–not bad for 4,500 feet of elevation," says Blue, adding that the company is off "to a promising start."
The target customer for the Spectrum 33 is the light business aircraft user. This product could actually straddle the VLJ and light jet category, depending on interior configuration, and at $3.65 million, is the most costly VLJ.
However, if it's categorized as a light jet, with its fuel efficiencies and configuration to seat 10, it's a bargain at nearly twice the price.
Because of these considerations, the Spectrum 33 may be reported in the light jet category and not as a VLJ.
Dog-gone it!
In most cases, predicting the future is a foolish endeavor, but one thing is sure for this year, the Year of the Dog: most who've thrown their hat in the VLJ ring will not lie low. Some may join forces, and some will fend off the competition. It's doubtful that lazy pigs are in this crowd. Dogs may be in the bunch, cunning rats may be running around, and tigers are certainly at the table.
Stay tuned, because it's getting good.
Send your VLJ related information or stories to jeff.mattoon@airportjournals.com.
Comments
comments