By Laurie Lips
Reprinted from December 2000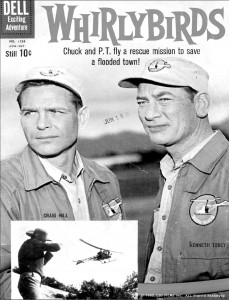 "Whirlybirds," a syndicated television series running from 1957-1961, starred Kenneth Tobey (playing Chuck Martin) and Craig Hill (P.T. Moore), a pair of helicopter pilots who operated Whirlybird Air Service, based on fictional Longwood Field.
Except for the first four episodes, all filming took place at Van Nuys Airport. National Helicopter Service provided the Bell 47 helicopters, facilities and technical expertise. It's interesting to note that neither starring actor was a pilot. Both had stuntmen who did the flying and stunts.
Plot example
In one of the 111 episodes produced, the two pilots take on a mission to transport a portable iron lung to a remote town, where a boy has been injured in a rockslide. The pilots fly directly into trouble, in the form of an electrical storm. They make it through the storm, but only 20 minutes of fuel remains. Then the power fails and the boy's life is again threatened.
The pilots transport a repairman to the break in the lines. Meanwhile, a cynical reporter, listening to the action from company headquarters, starts to believe that the whole rescue mission is fake, trumped up to get free publicity.
Craig Hill
Craig Hill, who plays P.T. Moore, the young, buoyant and amiable ace, was born in 1927 in Los Angeles. His films include some 30 features, including "All about Eve" and "Detective Story," and starring roles in "Fixed Bayonets" and "Victoria!"
Compared to Kenneth Tobey, Hill was something of a "mystery man" to North American audiences. Hill began his acting career in Hollywood early in the 1950s, first as a contract player at Twentieth Century Fox and then in larger roles at Paramount, before starring in the helicopter series. Following "Whirlybirds," his attention turned to the opportunities offered by European filmmakers. Through the 1970s and 1980s, Hill was busy with feature films in Spain and Italy.
Kenneth Tobey
Born in 1919, in Oakland, Calif., Kenneth Tobey studied at New York's Neighborhood Playhouse. His classmates included Gregory Peck, Eli Wallach and Tony Randall. Tobey's film and television career spanned from 1947 to 1990, and included more than 60 films.
In the 1940s, Tobey acted on Broadway and in stock theater. He made his first Hollywood film bow in a Hopalong Cassidy western. He appeared in numerous TV shows and over 80 films, including "Davy Crockett-King of the Wild Frontier" (playing the part of Jim Bowie), "The Search for Bridey Murphy," "40 Guns to Apache Pass," "Big Top Pee-Wee," "Beast From 20,000 Fathoms," "Gunfight at the OK Corral," "I was a Male War Bride," "Wings of Eagles," "Airplane," "Mark of the Vampire" and "Single White Female." He made several movies with classmate Gregory Peck, including "Twelve O'clock High," "The Gunfighter," "The Man in the Gray Flannel Suit" and "MacArthur."
In Kenneth Tobey's biggest movie, "The Thing," released in 1951, he played the lead role as a laboratory watchman. His red hair was also spotted in many other sci-fi films.
Kenneth Tobey passed away on Dec. 22, 2002, at the age of 83.

Comments
comments