By Bill Stansbeary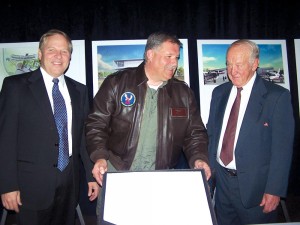 The 2nd Annual Wings Over the Rockies Gala was held at the Wings Over the Rockies Air & Space Museum, on the site of the former Lowry Air Force Base, on November 13.
"Spreading Wings" was the theme for the night to honor Carl Williams, whose accomplishments in aviation are matched only by his kindness, generosity and human compassion. Williams is an aviator, business executive and philanthropist who has devoted much time, energy and money to help advance aviation education.
He is a lifetime member of the University of Denver Board of Trustees, and serves on the board of Wings Over the Rockies Air & Space Museum. He holds a commercial pilot's certificate with a current instrument and jet aircraft type rating. In 1997, he was inducted into the Colorado Aviation Hall of Fame and currently serves on the board of the Experimental Aircraft Association.
Colorado Governor Bill Owens gave a warm welcome to all. Ed Greene from NEWS4 and KYGO Radio, was the master of ceremonies. Greg Anderson, museum president and CEO, gave an update on the mission to "educate and inspire present and future generations."
Kris Stoever, daughter of Scott Carpenter, one of the original seven Mercury Astronauts, made a grand presentation of the First Annual Carl M. Williams Award. The Wings Over the Rockies board of directors, staff and volunteers thanked the sponsors for their vision and desire to help the museum achieve even higher levels of success.
Jeppesen was the celebrity sponsor for the event and Mellon Bank sponsored the video. During a live auction, Rick Adam, CEO of Adam Aircraft, donated the first two flights on the Adam A-500, after certification; the highest bidders each paid $5000. Tom Luinstra, CEO and founder of Apartment Finders International, donated $10,000 to the museum for two Frontier tickets to visit the Houston Space Center and lunch with Astronaut Gene Cernan, the last man to walk on moon.
Comments
comments