By Greg Anderson, President, Wings Over the Rockies Air and Space Museum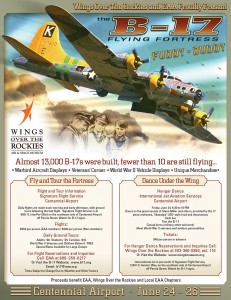 One of the few remaining B-17 Flying Fortresses will visit Centennial Airport June 24-26. The vintage bomber's appearance will kick off a number of weekend activities, including flights and ground tours, as well as a Hangar Dance on June 24.
During the 60th anniversary of the Allied Victory over Europe, Wings Over the Rockies is honored to pay tribute to the brave men and women who built, maintained and flew nearly 13,000 B-17s to make safe a way of life we still enjoy today. "Fuddy Duddy" is visiting Colorado during part of a national tour conducted by the Experimental Aircraft Association.
This may be the best, if not the last, opportunity to appreciate a piece of history that is disappearing almost as fast as America's "Greatest Generation" of World War II. We hope veterans, families and aviation enthusiasts will participate in one of several planned activities.
Hangar dance
Friday evening, June 24, from 6:30 to 10 p.m., Wings Over the Rockies will host a dance in the hangar of International Jet Aviation Services, 12401 South Aviator Way. The big band sounds of a 17-piece orchestra, "Nostalgia," will turn the clock back with songs from Glenn Miller, Benny Goodman and others. USO-style food and a cash bar will be provided.
The B-17 will be open for tours, with veteran crew members posted at their crew positions to share combat experiences and answer some questions. World War II military vehicles will also be on hand, as will other veterans, such as Bill Bower of the Doolittle Raiders.
Space is limited for this once-in-a lifetime opportunity to dance under the wing of a B-17 and meet people who flew her into combat. Cost is $40 per person. Reservations must be made through Wings Over the Rockies by telephone (303-360-5360 x 110) or on the museum website (www.wingsmuseum.org).
Flights and tours
Local flights and ground tours will be available from Friday-Sunday, June 24-26. Flights can bring back poignant memories for our World War II generation, or make new ones for family members and young people.
Flights and tours will take place from Signature Flight Service, 8001 South Interport Blvd. Flights for up to nine passengers each will take place each morning. Flights will be approximately 35 minutes each, including 25 minutes airborne. Passengers can move about the aircraft, from waist gunner positions, through the bomb bay to the cockpit and bombardiers position in the nose (the "best seat in the house!") Passengers will not sit in a pilot position, and they must sign a waiver of liability prior to the flight.
Flight reservations are $355 for members of EAA and $395 for others. All flight reservations are being handled through EAA only, via toll-free telephone (800-359-6217) or on the EAA B-17 website (www.B17.org). Flight times and tours are subject to change based on weather and other factors. Monday, June 27 will be a make-up day for any delayed flights, if necessary.
Ground tours of the B-17 will be available following the last flight each day. Adults are $6, families are $10, and World War II veterans and children below age 8 are free.
Additional warbird aircraft will also be featured at Signature Flight Service, as well as operational World War II military vehicles. A "Veterans Corner" will be established to meet and swap stories with World War II veterans. Unique B-17 merchandise will also be available.
In addition to its weekend activities at Centennial Airport, "Fuddy Duddy" will also appear at the EAA Rocky Mountain Regional Fly-in at Front Range Airport on Saturday evening and early Sunday morning. For more information, visit www.rmrfi.org.
B-17 raffle
Raffle tickets are available for four lucky winners to win two seats on a B-17 flight ($790 value) on Sunday, June 26. Tickets are $10 each, or three for $25, or seven for $50. The raffle makes it possible for virtually anyone to fly into history, and to support Wings Over the Rockies' work to preserve our aviation heritage.
Raffle tickets are available from Wings Over the Rockies board members and selected museum members, or from the museum, located in the new Lowry community.
B-17 history
"Fuddy Duddy," a B-17G, was built by Douglas Aircraft in 1944. It flew in the Pacific theater and was later converted into a VIP transport for General Eisenhower and General MacArthur in the years following World War II.
The aircraft was restored by the National Warplane Museum in 1986, in the paint scheme of the 8th Air Force aircraft, "Fuddy-Duddy," which flew with the 447th Bomb Group and was lost in a midair collision over Germany in 1944. The 8th Air Force was the largest aerial combat organization ever assembled; members of the 447th Bomb Group will be in Denver to reminisce with the aircraft in their flying colors.
In recent years, thousands of people have experienced flights and ground tours in "Fuddy-Duddy," bringing to life history that should never be forgotten. Wings Over the Rockies is honored to play a part in recreating that history. We're also eagerly anticipating the world-class aerospace museum currently being planned for Centennial Airport.
Flights and tours will benefit EAA, Wings Over the Rockies and local EAA chapters. Proceeds from the hangar dance and raffle will benefit the museum.
Comments
comments